WebstaurantStore / Food Service Resources / Blog
Classic Holiday Drinks
With sleigh bells ringing and snowfall glistening, it's time to cozy up with a warm mug or cool cup filled with classic holiday flavors. Winter is time to indulge in your favorite cold weather beverages infused with hints of chocolate, peppermint, cinnamon, and gingerbread. These classic holiday drinks make a crowd-pleasing addition to any coffee shop, cafe, or intimate gathering of friends. Find essential supplies to make any of the drinks below at up to 20% off with our selection of holiday beverage supplies.
Hot Chocolate Recipes
Any list of holiday drinks can't start without hot chocolate, everyone's cold-weather favorite. This decadent drink begins with steamed milk and melted chocolate to create a creamy, indulgent base for any number of additional flavors or toppings. Keep it simple, or add a hint of Christmas to your cup with these fresh takes on an old classic.
Peppermint Bark Hot Chocolate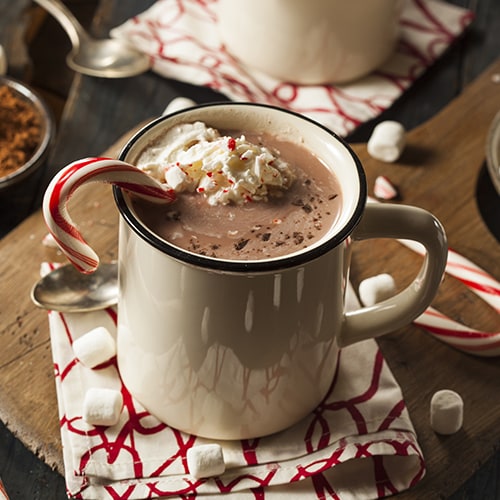 Ingredients:
Instructions:
Add your hot cocoa mix into the hot water until the mix has completely dissolved.
Stir in peppermint bark sauce, vanilla extract, and salt.
Rim the mug or glass with peppermint rimming sugar and garnish with whipped cream and candy topping.
Snickerdoodle Hot Chocolate
Ingredients:
Instructions:
Heat milk and half and half in a sauce pan, microwave, or steamer.
Slowly whisk in chocolate until it has melted completely.
Stir in syrup, vanilla extract, cinnamon, and salt.
Garnish with whipped cream and caramel sauce.
Hot Winter Drink Recipes
Hot drinks are a popular choice during cold weather months for obvious reasons. If you're looking to change up the usual coffee order, try some of these wintery classics instead.
Creamy Irish Coffee
Ingredients:
Instructions:
Brew coffee using preferred method.
Slowly stir in syrup and half and half.
Pour into an Irish coffee mug and garnish with whipped cream and chocolate shavings.
Gingerbread Latte
Ingredients:
Instructions:
Stir syrups into espresso until thoroughly combined.
Slowly stir espresso mixture into steamed milk.
Add spices and pour into a hot paper cup.
Garnish with whipped cream and sprinkle the top with cinnamon.
Cold Winter Drink Recipes
Cold weather doesn't mean customers and guests won't be yearning for a refreshingly sweet cool drink this winter. Incorporate these delicious, fruit-filled drinks into your beverage lineup for a wintery spin on classic cold drinks.
Cranberry Apple Cider Punch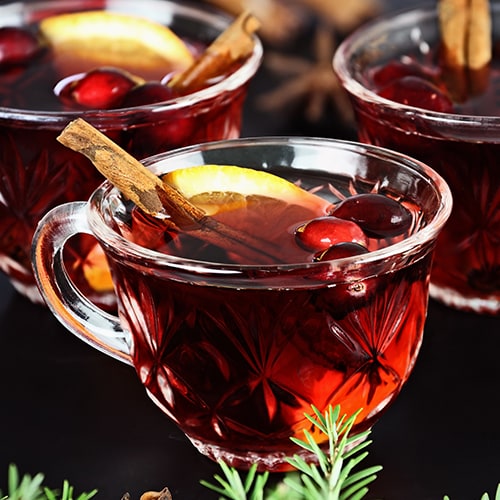 Ingredients:
Instructions:
Combine all ingredients in a pitcher and stir well to combine.
Incorporate optional fresh fruit and refrigerate until ready to serve.
Frozen White Hot Chocolate
Ingredients:
Instructions:
Combine milk, chocolate powder, and ice in a blender.
Begin blending on low speed, and increase speed as needed until ice is sufficiently blended.
Pour into a glass and top with whipped cream and a sprinkle of cinnamon.
Whether customers are looking to warm up or cool down this winter, we've got the perfect selection of drinks to supplement your year-round beverage menu. Remind customers and guests to indulge in their favorite flavors this winter including warm chocolate, spicy gingerbread, and cranberry. Stick with the classics, or spruce up your seasonal menu with these crowd-pleasing options.

Posted in:
Holidays
|
Coffee & Tea
| By Rachel Jenkins