WebstaurantStore / Food Service Resources / Blog
Getting to Know WebstaurantStore's 2017 Winter Scholarship Winner
WebstaurantStore's Culinary and Hospitality Scholarship provides a grant to talented, motivated individuals pursuing education in the culinary arts or hospitality fields. The most recent winner of our $1,500 grant, Nina DeBoer, impressed us with her passion for excellence and adventurous spirit. Now, Nina brings insight into her experiences with entrepreneurship, her commitment to education, and finding the perfect sweet spot.
Nina's Background
Nina grew up surrounded by small businesses. Her parents and brother all owned their own businesses and naturally passed the entrepreneurial spirit along to Nina. As a home-schooled student, Nina was taught an important message from her family at an early age. "The rule of thumb has always been that if you want something, then you're going to have to work for it. So even from a young age, I knew the value of money, and how it really didn't grow on trees," said Nina. Her love of all things sweet began when she was around 10 years old and hasn't stopped since. With her interests blossoming into passion, Nina knew she would need money for culinary school in order to achieve her goal of becoming a professional baker.
Life as a Young Entrepreneur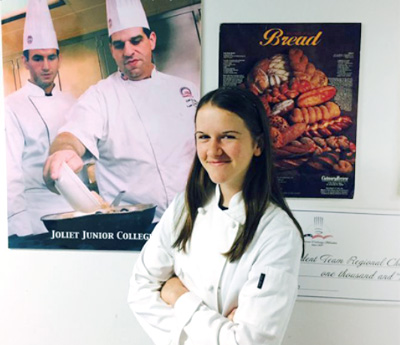 As a preteen, Nina began attending classes and worked tirelessly to perfect her craft. "I would make birthday cakes for cousins or cupcakes for friends from church, but I knew that if someday I really wanted to go to culinary school, I would have to come up with a way to pay for tuition." And with that desire to fund her future academics, Nina took the initiative to create her own business at the age of 12. Nina's Belicious Bakery, LLC was officially established on January 12, 2012.
By the age of 13, Nina was putting in the hard work needed to run a successful business including filing taxes, purchasing from wholesalers, and working directly with customers. Nina ran her business for five years but is currently putting it on hold to fulfill her initial goal of getting an education. "Culinary school was the dream I was working toward, a little backwards from the people who are in school and dream of opening their own place, as I had my own place and was dreaming of school," she said.
Her loyal customers have been told the business is on hold, and Nina plans to open it back up after graduation. As for her future goal, Nina sees herself adding a floral element to her favorite sweet treats. "My favorite cakes to make are wedding cakes with fresh flowers, so one day I would love to partner up with a florist and own my own wedding cake boutique."
Achieving Success in the State of Indiana
No matter the age, owning an in-home certified bakery in the state of Indiana is no easy task. In fact, Nina is the only person to do so at this time. From filling out endless forms to installing an eight-foot, three-basin sink, Nina and her family worked together to get their home kitchen ready for inspection. Even when others doubted the young girl's abilities, Nina persevered to achieve her goal. She became ServSafe certified, completed all the necessary paperwork, and cleaned every inch of her kitchen until it was spotless. "The inspector completed her review, and after two years of hard work and determination, my dream had become a reality. Then, at the age of 14, I was officially the owner of the only in-home certified bakery in the state of Indiana."
Tips for Culinary Students
Nina isn't one to shy away from a challenge, and she encourages others to do the same. "My suggestions for people who are also interested in culinary would be just go for it. Don't be afraid to try," she said. Another important lesson she has learned over the years is to be ready to put in the work. "Be prepared to work hard, learn a lot, and throw any idea of a diet out the window," she said.
Beyond her studies, Nina also recommends getting involved with volunteer opportunities, especially those interested in the hospitality industry. She believes this is an important part of her education because it builds character and shows others that she cares. As a bonus, Nina said she's had classmates volunteer for opportunities which resulted in run-ins with famous chefs and even a job offer.
If you're considering majoring in the culinary arts or hospitality fields, then you could be our next scholarship winner. Check out our scholarship page to see how to apply and to read Nina's winning essay for some inspiration. Whether you plan to use the $1,500 grant to purchase books or you put it towards your class tuition, we're happy to help the next generation of chefs, restaurant managers, hotel operators, and other industry professionals.

Posted in:
Interviews
|
Bakeries
| By Rachel Jenkins