WebstaurantStore / Food Service Resources / Blog
4 Ways to Incorporate Mason Jars in Your Restaurant
Mason jars are popular in restaurants, bars, bistros, cafes, and banquet halls. Thanks to their old-fashioned appeal, they add a rustic touch to tabletop settings, and their versatility enables foodservice professionals to use them in a variety of applications, from drink service to tabletop decor. So, if you have a large supply of mason jars that you don't know what to do with or you're looking to purchase some for your establishment, check out these 4 ways to incorporate mason jars in your restaurant.
1. Beverage Service
We carry a variety of mason jars with handles that are perfect for serving anything from iced water, lemonade, soda, and seasonally-flavored teas to beer, wine, margaritas, and cocktails. Thanks to their clear glass constructions, patrons can see the colors of their beverages, which enhances your drinks' presentation. Keep these jars stored behind the counter to prepare drinks for the customers in your restaurant, bar, or lounge, or set them out at self-serve stations at your catered event. You can also provide patrons with labels that look like miniature chalkboards, so they can label their jars with their names or the name of their drink.
2. Food Service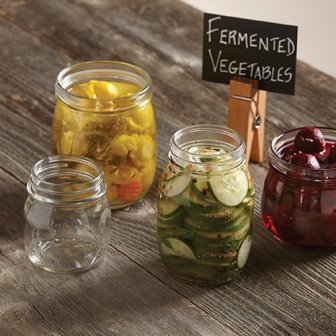 Another unique way to use these trendy mason jars is to present appetizers, sides, desserts, and other foods in them. Fill them with sides of fries, individual portions of pasta salad, mixed greens and dressings, or bread sticks. Or, use them to hold condiments, pickled vegetables, garnishes, and toppings on your buffet table. They're also perfect for serving parfaits, mousse, milkshakes, and other desserts in a visually-appealing way.
Another benefit to using mason jars to serve food, is that their smaller capacities help prevent chefs and caterers from serving portions that are too large. Additionally, these products are easy for guests to carry around with one hand while they're socializing at cocktail hours, weddings, and other events.
3. Tabletop Accessories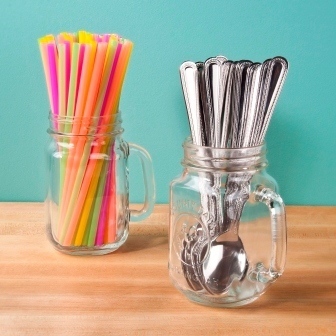 If you're hosting a rustic-themed event or operate a trendy cafe, then consider using mason jars to hold and organize dinnerware essentials like flatware and straws. Set them out on dining tables, buffet tables, or condiment stations, so guests can easily grab what they need. By having all of the necessary supplies readily available to your guests, your servers or caterers can spend time on other tasks. You can also fill these jars with complimentary after-dinner mints, and place them on hostess stands or front office desks. Caterers can even make DIY favors with these jars by layering ingredients for cookie, cake, or brownie batters in them and attaching the recipe. These favors can then be set at individual place settings at weddings, fundraisers, parties, and other events.
4. Centerpieces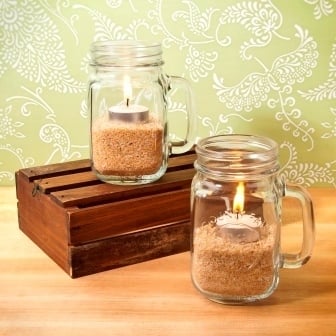 Mix up your establishment's traditional decor by using mason jars as centerpieces. There are multiple ways you can transform these drinking jars into trendy accent items. Check out some of the ideas we listed below to find something that will complement your business's decor:
Fill the jars halfway with sand, marbles, stones, colorful sprinkles, or uncooked rice and top them off with a tea light.
Add coffee beans or cinnamon sticks to each jar, and place a vanilla-scented candle on top of them to create a makeshift candle.
Use these jars as alternative vases to hold fake or fresh-cut flowers.
Create a colorful centerpiece by adding layers of sand that is dyed different colors.
Whether you use mason jars for food and beverage service or for tabletop decor, you're sure to add a trendy flair to your restaurant, bar, or banquet hall. Also, by stocking up on mason jars in bulk, you'll receive great wholesale prices you won't find anywhere else.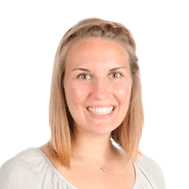 Posted in:
Foodservice Trends
| By Ashley Kufera