Find the Best Decorative Trash Cans for Your Business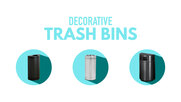 Decorative trash cans are an excellent choice for any business that wants to keep their waste receptacles looking great. These products are available in a variety of capacities, so you'll have no trouble finding the perfect can for your large or small business. They also come in several colors, which allows you to match them with your establishment's existing decor or color scheme. Because they're made of durable materials like steel, polyethylene, polymer concrete, and stainless steel, these decorative trash cans are also built to last. If you're placing your trash can against a wall, you can choose half round, rectangular, or square products. On the other hand, hexagon and oval shaped cans work well in open spaces like cafeterias or outside buildings. Some of these cans have retainer bands or ashtrays, and you'll also find a few models with bumpers and weather shield tops. Whether you run a restaurant, retail store, or university, decorative trash cans are always a smart choice. To learn more about the differences between these products, explore the tabs above and the filters on the left side of the page.
We offer commercial trash receptacles in many sizes, styles, and colors to suit your preferences. Check out our covered cans and ones with dome, funnel, hinged, or open lids to find the best style for guests' convenience. You can also find trash cans that are ADA compliant to make your business more accessible to disabled guests. For additional waste disposal products, make sure you check out our low density garbage bags, high density garbage bags, and biodegradable garbage bags. If you're wondering where to buy decorative trash cans, we have a large selection of decorative trash cans for sale at the lowest prices.