Find the Best Stainless Steel and Aluminum Fry Pans for Your Business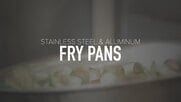 Stainless steel and aluminum fry pans come in a variety of styles to fit every chef's needs. Aluminum provides excellent heat conduction, while stainless steel creates a durable pan that can withstand daily use in any commercial kitchen. Whether you're just starting out or you've already established your signature dishes, there's a frying pan to meet your specific usage needs. Some of our models have distinct features like rivet-less or coated handles, while others can be used on induction cooking ranges to keep kitchens cooler and safer. You can also select from entry and mid level or high end fry pans depending upon what you'll be using them for. If you're looking for products that are easy to clean, we also carry a number of stainless steel and aluminum fry pans that are either dishwasher safe or NSF Listed. No matter what kind of kitchen you run, our selection of aluminum and stainless steel fry pans is sure to have what you're looking for. To learn more about the differences between these products, explore the tabs above and the filters on the left side of the page.
Our stainless steel and aluminum fry pans are perfect for all types of cooking applications and recipes. We have options for entry level chefs as well as heavy-duty applications, and we even carry some pans that are oven-safe. Use one of our NSF Listed fry pans for added sanitation and easy cleaning. For additional cookware, check out our saute pans, stir fry pans, and cast iron skillets. If you're wondering where to buy stainless steel and aluminum fry pans, we have a large selection of stainless steel and aluminum fry pans for sale at the lowest prices.