Find the Best Gas Countertop Fryers for Your Business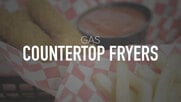 Perfect for frying everything from chicken tenders and french fries to mozzarella sticks and wings, gas countertop fryers are a smart addition to any kitchen. We offer these products in both medium and heavy duty applications, so you'll have no trouble finding the best fryer for your small or large business. Some of these fryers are even NSF Listed or Energy Star Qualified, so they're easy to clean and will save you money on energy costs. Additionally, you can choose from items in a wide range of BTUs for the perfect level of power and control. Whether you own a food truck, concessions stand, or small diner, gas countertop fryers are a must-have piece of small cooking equipment. To learn more about the differences between these products, explore the tabs above and the filters on the left side of the page.
Use a gas countertop fryer to cook meat and vegetables to crispy perfection without using up more floor space. These countertop models deliver the same power you expect out of your floor fryers, but they leave more room in your kitchen for other equipment. Because these fryers are designed for medium- to heavy-duty use, you can be confident they won't burn out with high-volume output as well. To find more products for your deep fryer, check out our selections of fryer baskets, cooking oil, and oil filtration systems. If you're wondering where to buy gas countertop fryers, we have a large selection of gas countertop fryers for sale at the lowest prices.