Brewing the ideal batch of coffee is a simple process using any of our urns. First it is important to make sure you are brewing into an empty liner as well as making sure that the brew tank temperature is in the ideal temperature range. From there, you'll want to take your urn coffee filter and make sure it is securely placed in the brew basket. Then, taking your pre-ground, pre-measured coffee, you're going to pour it completely into the liner. And then make sure that the coffee is nice and level within the liner. Then you'll take the lid, and put it back into position. Then take the rotating spray arm, locking it into position, ensuring that you are using the correct batch size. We are going to brew a full batch of coffee, and press the start button. In five minutes, we are going to have the ideal batch of coffee. As you can see, our brewing process is now complete; we are ready to serve the coffee. Our midline series urns are equipped with a manual agitation system. By introducing air into the liner, you are keeping the coffee suspended. Once your brewing process is complete, it is recommended that you turn the temperature to the brew holding position, which maintains the ideal holding temperature of 185 degrees. Critics agree that brewing in a coffee urn produces the best cup of coffee. To learn more about Grindmaster's complete line of products, including coffee urns, please contact your local Grindmaster sales representative today, or visit our website at www.grindmaster.com.
This video gives a demonstration of how to use Grindmaster-Cecilware's urns to easily brew coffee.
Related Videos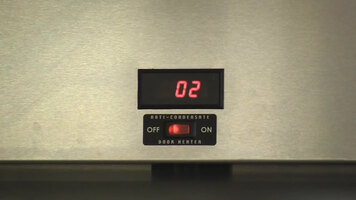 Continental Refrigerator: Digital Thermometer Calibration
Calibrate your digital thermometer with these simple steps! Calibration will ensure a perfect internal temperature in your Continental refrigerator or freezer.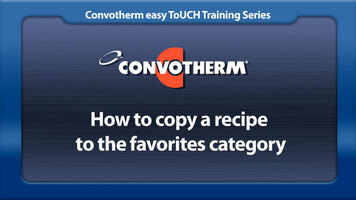 Cleveland Convotherm: Copy a Recipe to Favorites
Learn how to copy a recipe into the favorites category using Convotherm Easy ToUCH controls with this quick video!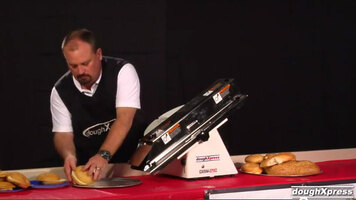 DoughXpress: DXSM-270 French Bread/Bun and Bagel Slicer
The DXSM-270 bun and bagel slicer will slice french bread, bagels, hamburger buns, hoagies, biscuits, bread sticks, and so much more! This product can slice and/or hinge products up to 6" wide by 3" thick as fast as the operator can feed it!