Follow this procedure for operating your Lincoln Impinger ovens. To start the oven, push the on switch to on. Next check to ensure the oven dial positions are set for the correct temperature. The indicator light should come on. Check to ensure the conveyor belts are operating at the correct speed. If not, adjust the belt speed, by turning the speed control dial until the speed you wish is showing on the dial scale display. Allow 30 minutes for the oven to preheat. If necessary, after the preheat adjust the oven temperatures and conveyor to the final desired settings. To shut down the Impinger, push the on switch to the off position. Caution: oven walls and parts are still very warm. Maintaining your Impinger oven involves a simple daily routine cleaning, a thorough weekly cleaning, and a few special projects every month.
The basic operations of the 1300 series ovens from Lincoln are covered in this video, from the basic functions on the control panel to standard operating procedures.
Related Videos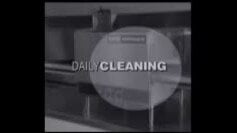 Lincoln Impinger Oven 1300 Series: Daily Cleaning
This video shows you how to clean your 1300 series Lincoln Impinger oven. Learn how to tidy up the exterior and interior of your oven to keep it looking spick-and-span! Lincoln Impinger Oven 1300 Series: Optional Soil Shields
A look at the benefits of using the optional soil shield. Soil shields will help to make cleaning your 1300 series Lincoln Impinger oven a breeze! Lincoln Impinger Oven 1300 Series: Every Three Months
Watch this video to learn the proper maintenance instructions that you should perform for every three months of use. This will help keep your oven in a great condition!