Your impinger oven is equipped with a state-of-the-art digital controller. The panel has a single on/off power switch, which operates the fan, conveyor motor, and heat. The easy-to-use four push-button panel controls time, temperature, up, and down. The BFD display indicates the actual cavity temperature, conveyor speed, and heating indicator.

Follow this procedure for operating your Lincoln impinger ovens. First, make sure your ventilation, if you have it, is on and running properly. Then, to start the oven push the on switch to on. Next, check to ensure that the oven is set for the correct bake time temperature. You do this by pushing the time and temperature buttons at the same time for five seconds. This enters the set point mode. Once in set point, push the time button to see the set time. If set incorrectly, adjust to the proper time by scrolling up or down with the arrow keys. Once the time is set push the temperature button to enter the temperature set point. The preset time will automatically be saved in the memory. If the temperature is set incorrectly, adjust to the proper temperature by scrolling up or down with the arrow keys.

When in Fahrenheit, or "F" mode, the temperature is adjusted in five degree increments. When in Centigrade, or "C" mode, the temperature adjustment will be in one degree increments. Once the time and temperature are set correctly, release all buttons. After five seconds the selected set points will be stored in the memory. In a few seconds the heating indicator should come on. If the indicator does not light, turn the on switch off, wait five minutes, and turn the switch on again for gas ovens only. Allow thirty minutes for the oven to preheat.

To shut down the impinger, push the on switch to the off position. Caution: oven walls and parts will remain very warm after shut down. You may also choose the direction of the conveyor belt. Use the conveyor toggle switch on the back of the oven.
The basic operations of the 1100 series ovens from Lincoln are covered in this video, from the basic functions on the control panel to standard operating procedures.
Related Videos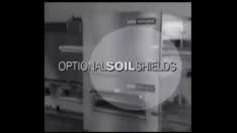 Lincoln Impinger Oven 1100 Series: Optional Soil Shield
A look at the benefits of using the optional soil shield. Soil shields will help to make cleaning your 1100 series Lincoln Impinger oven a breeze!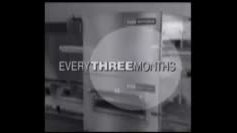 Lincoln Impinger Oven 1100 Series: Every Three Months
Maintenance instructions for every three months of use. This video offers a quick overview to help you keep your oven in great working condition!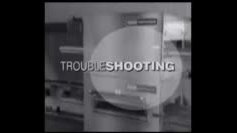 Lincoln Impinger Oven 1100 Series: Troubleshooting
Troubleshooting with the 1100 series Impinger ovens from Lincoln. This video offers an overview of diagnostic messages as well as what you can do to ascertain exactly what your oven needs done!