Gold medal products can withstand falls from counters and tabletops. Even after experience a fall, Gold Medal products can be plugged back in, ready to make you delicious snow cones, cotton candy, popcorn, or whatever other treat your machine is designed to make!
Gold Medal products are designed to withstand repeated use without sacrificing quality or performance. Check out this video to see how durable a sno-kone machine can really be (but don't start doing this to yours!)
Related Videos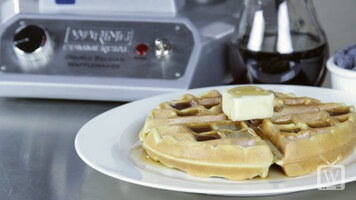 Waring Double Belgian Waffle Maker
The Waring WW200 Belgian waffle maker has 1400 watts of power and triple coated nonstick plates, making it an efficient and easy-to-clean choice for your business. Check out this video to see the other great features this waffle maker has to offer!
Why Buy Commercial Microwaves
Commercial microwave ovens are designed to be used 50-200 times per day while residential models are only built to be used 3-5 times per day. This is only one of many reasons you should buy a commercial microwave for your foodservice establishment. The ACE14 Jetwave Demonstration
The ACE14 Jetwave oven uses 1400W microwave energy to cook foods 4 times faster than a traditional oven. With a temperature range from 200-475 degrees, this oven is extremely versatile, too. Plus, it allows you to preprogram up to 100 dishes!