Portion control is important to any restaurant and pizza shops are no exception. The Torrey PZC-5 Pizza Portion Control Scale with its portability, its ease of use and its convenient foot tare pedal it's going to make that job quick and easy. Now let's take a look at the use and function of the Torrey PZC-5 Pizza Scale. The first thing you'll want to do when you get this home is you'll want to plug it in using the AC adapter in order to recharge the battery. The AC adapter plugs right to the back of the control panel here and you can see what also is here is your cord for your foot pedal. You can plug those both in. The AC adapter, once you plug that in, it'll take 10 hours to charge this thing and then, this unit will work for 12 hours afterwards. Now, you can go ahead and turn it on in that far right red key and it'll go through a little countdown and it'll come on. This button right here is the off button. Right here's the backlight button and you can see the difference. It's so nice that it has a backlight. There's without and there's with the backlight. And then you can change from kilograms to pounds to ounces on this. I like it in ounces, so I'm going to keep it there. We have the tare button right over here. You're never going to use that when we have this nice foot pedal tare button. And I'm going to show you that. Let's just go ahead and build a pizza with this unit and see how it works. First, I'll start out by putting my pizza on the platform. You can put up to a 16" pizza right here. I'm using a 12" right now. I already portioned out my sauce on here by using a ladle and I have this thing on a screen. Now to zero this thing out so we can start building our pizza, I'm going to go ahead and hit the foot tare pedal and you can see that brings it right down to zero. Now, I want to add 4 ounces of cheese and I'm going to go ahead and start sprinkling on my cheese. We got 3, almost 3.5. There we go; we have 4 ounces of cheese on there. I have exactly the right amount of cheese. There's no overage or underage. We're going to have the correct amount of cheese on there so I'm going to hit my foot pedal to bring it back down to zero. Now, I want to add 1.5 ounces of pepperoni to this and you can see I'm going to go ahead and apply these pepperonis all over the place. We got 1 ounce and I'm going to almost be; there we go, 1.5 ounces of pepperoni. Now, I have perfectly portioned this pizza and I can go ahead and put it in the oven knowing that I didn't lose any money, by adding anything extra, and I'm giving somebody a consistent product every time.
Portion control is important to any restaurant, but especially pizza shops! The portability, usability, and tare foot pedal on this Tor Rey PZC5 pizza portion control scale makes it a great addition to any pizzeria. Make consistent pizzas every time!
Related Videos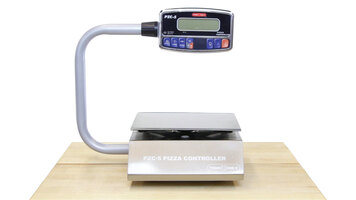 Tor Rey PZC-5 10lb. Pizza Portion Scale
Check out this quick video to see why the Tor Rey PZC-5 10 lb. pizza portion scale is the perfect choice for pizzerias and commercial kitchens! How Portion Scales Can Help You Control Portion Sizes
Save money for your business by learning how to control the sizes of the portions you serve! See how seemingly insignificant mistakes in portion size--such as being off by 1/8 of an oz.--can make a huge difference in your yearly profits.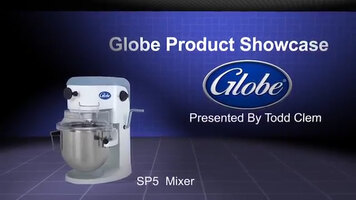 Globe 5 Quart Commercial Stand Mixer
This short video highlights the unique benefits of the Globe 5 qt. mixer, including all stainless steel tools, extra ventilation for its powerful DC motor, and the ability to make full 4 lb. dough balls!