Here's what you'll use for each batch. Our item 2094 caramel corn concentrate, 2042 Maks pop oil bars (you'll need one stick), one stick of butter, ten ounces of water, four cups of sugar, and our 2250 Free and Easy corn separator. First, we need to load our mix, sugar, water, and oil bar. Next, turn the heat switch on. Then, place the lid on the kettle. Remove the lid when steam rises out from the kettle. Make sure you keep a safe distance; the steam will be hot. When the buzzer sounds, indicating you are up to proper temperature, add the butter. Turn the heat switch off and the motor switch on. Next you are ready to add five gallons of popped corn. Now, move the kettle into the mix position, add your twelve squirts of Free and Easy, which helps keep the caramel corn from sticking together. Continue mixing for about two minutes. When the corn is thoroughly mixed, it's time to dump into your cooling pan. You must now separate the corn while it's hot so it doesn't stick together. Gently run your scoop up underneath the corn for about three minutes. The product will be cool enough to package in about ten minutes.
This video shows you how easy it is to make delicious, customer-pleasing caramel corn using Gold Medal's Corn Cooker Mixers!
Related Videos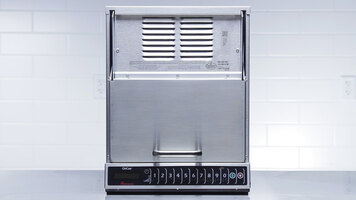 Amana AOC24 Heavy-Duty Commercial Microwave
The Amana AOC24 heavy-duty commercial microwave is perfect for quick service restaurants, snack stands, campus dining, and other casual eating environments. Watch this video to learn about all the great features this microwave offers!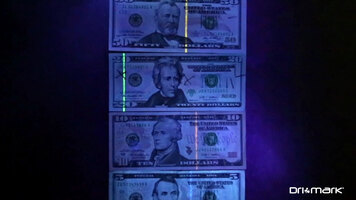 Dri Mark Counterfeit Money Detectors
Counterfeit bills are a big deal to today's foodservice operators. Learn how you can prevent these bills from ever entering your registers, in this informative video from Dri Mark.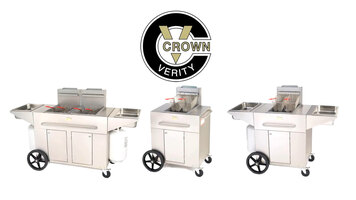 Crown Verity Quality Stainless Steel BBQ Grills
Check out this video to learn more about the quality stainless steel BBQ grills that Crown Verity has to offer! Several customers and businesses have already reaped the benefits of a Crown Verity BBQ grill. See what one could do for you!