Here's what you'll use for each batch. Our item 2094 caramel corn concentrate, 2042 Maks pop oil bars (you'll need one stick), one stick of butter, ten ounces of water, four cups of sugar, and our 2250 Free and Easy corn separator. First, we need to load our mix, sugar, water, and oil bar. Next, turn the heat switch on. Then, place the lid on the kettle. Remove the lid when steam rises out from the kettle. Make sure you keep a safe distance; the steam will be hot. When the buzzer sounds, indicating you are up to proper temperature, add the butter. Turn the heat switch off and the motor switch on. Next you are ready to add five gallons of popped corn. Now, move the kettle into the mix position, add your twelve squirts of Free and Easy, which helps keep the caramel corn from sticking together. Continue mixing for about two minutes. When the corn is thoroughly mixed, it's time to dump into your cooling pan. You must now separate the corn while it's hot so it doesn't stick together. Gently run your scoop up underneath the corn for about three minutes. The product will be cool enough to package in about ten minutes.
This video shows you how easy it is to make delicious, customer-pleasing caramel corn using Gold Medal's Corn Cooker Mixers!
Related Videos Cleveland Convotherm Combi Oven
Impress your customers with this OES 20.20 combi oven steamer! Capable of holding up to 40 steam table pans, this oven is perfect for catering weddings, banquets, and parties.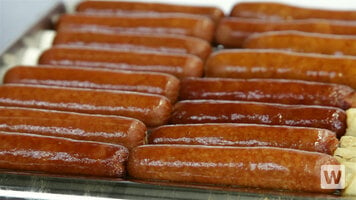 Avantco RG1824 Hot Dog Roller Grill
Built with a stainless steel exterior and 750W of heating power, this roller grill is the perfect choice for your snack bar or convenience store! Watch our short video to learn more about these and other features of the Avantco RG1824 roller grill.

Lettuce Cutter Blade Replacement
Follow these step-by-step instructions to safely and easily replace the blade on your Nemco Lettuce Cutter.