All of the gloves offered by Noble provide a protective barrier between your bare hand and food, or unsanitary conditions. But that doesn't mean much if used incorrectly. For food handlers, it is always important that gloves be removed before or after handling money, and replaced with a new pair afterwards. Gloves must also be changed at least every four hours during continual use, and after handling raw meat and seafood, or poultry to cut down on cross contamination. Proper removal of disposable gloves is just as important as wearing the gloves properly. Cross contamination between soiled gloves and clean hands can can easily be prevented by following these simple steps. Grasp the outside edge of one of the gloves near the wrist. Peel it away from hand, turning the glove inside out. Hold this glove in the opposite gloved hand, then slide an ungloved finger under the wrist of the remaining glove, careful not to touch the outside of the glove. Peel it off from inside, creating a bag for both gloves. Discard, and wash hands thoroughly. Making gloves easily accessible allows you to slip on a pair even when in a rush. So don't forget to purchase a wire wall mount glove rack, so that you can keep your gloves within arm's reach of your sink, prep table, janitor's closet, and more.
In this video, we go over how to use Noble Gloves properly and most effectively; including how to properly remove these gloves. Proper wearing and removal of gloves can prevent cross contamination and keep your employees and customers safe.
Related Videos
AXP-MXP22 User Options
If you would like a brief overview of how to utilize the user options of the AXP22 oven, then check out this video. There are 17 different user options so that you can customize this oven to your individual kitchen needs!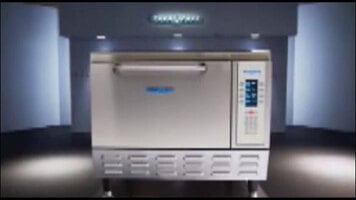 Turbochef Tornado: Setting Up Your Oven
This video will help you through the process of setting up your Turbochef Tornado oven, which features cooking capabilities of up to 12 times faster than traditional cooking equipment!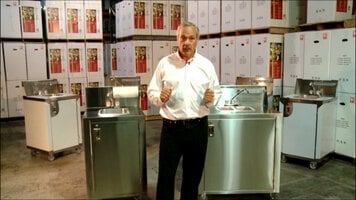 Features of Crown Verity Portable Sink Carts
The wide variety of features and options of the Crown Verity Portable Sink Carts make these sinks perfect for all kinds of indoor and outdoor food preparation. This video will show you each of these features and how they will benefit your business!