Before you can fry a turkey, you have to prepare a turkey and there's a couple of safety things first that I want to mention. First of all, make sure you start with a completely thawed turkey. Not one little part of this turkey can be frozen or else you're going to have a boil over when you drop this thing in hot oil and you don't want that, that's a very dangerous situation. The other thing you want to make sure this thing is completely dried. Obviously, oil and water don't mix; again you risk a boil over if you have a wet turkey so my turkey is completely dried off. If you've brined it over night, just make sure you really pat it down. The other thing that I do want to mention is that you see I'm drinking iced tea right here and not beer. I love to drink beer when I cook; this is not the time to do that though. When you're going to messing with lots of hot oil and lots of fire, you don't want to mix drinking in with it, so keep that in mind. First thing I'll start by doing is pulling out this little probe thermometer that comes with the turkey that's useless. It's useless when you cook in the oven. You always want to use a real thermometer. The next thing I'm going to want to do here is I'm going to go ahead and inject the turkey. I've made a little marinade of Worcestershire sauce and orange juice. And I'm going to go ahead and inject it. I'm going to draw it up into my injector and you'll see I'm just going to very slowly plunge it into different portions of the turkey here. From there, once I'm done doing that, I'm going to go ahead and give this turkey a good dry rub with the Regal Spice Cajun Spice and skillet seasoning. That stuff is fantastic! It's paprika, it's onion, it's garlic, it has all kinds of great flavors that it's going to impart to your turkey. I'm going to rub it inside and out and try and get some under the skin here too. The other thing that you're going to want to do here is trim off all the fat off the turkey, the excess fat that you see right here. You're also going to want to make sure that you have a hole here at the neck in order to pull your lifter up through. After that you want to make a couple slits right between the leg and the thigh joint. That will allow the oil to drain out when you're lifting the turkey out of the fryer. We already have our burner set up and it's hooked up to the propane tank. You'll want to follow the instructions very carefully. They're all a little different. That's why I'm not showing it I want you to follow those instructions that come with that burner. Before I light it I'm going to go ahead and fill up my pot here with oil. I'm using 100 percent peanut oil. It has the highest flash point of any of the cooking oils, which makes it much safer to use. It also lasts longer; you can use it more than once when you're turkey frying. One way to know how much to put into this pot, is to put your turkey in, add water, take your turkey out and look where the water line is. There's also a max fill line in our turkey fryer pots, you won't want to put more oil in it than that. Now, I already checked this and I found out that I need to take it up to the max fill line. So, I'm going to go ahead and do that right now. Once you fill this with oil, you're going to go ahead and put your thermometer, attach it to the side of the stock pot. And when you do that, just make sure that at inch of the probe at least is into the oil. That way you will get a good measurement on your oil. Now once our oil is getting up to 350 degrees, you're going go ahead and turn down the control valve to bring the flame down a bit. You're going to remove your thermometer and put your turkey in there. But before you do any of that, make sure that you have your safety equipment on. Your fryer gloves, your goggles, an apron is a great idea, definitely long sleeve shirt and long pants, so you don't have any exposed skin because there will be oil bubbling and boiling when you put that turkey in there. I'm going to grab my turkey lifter and you just hook it up right like that. And you'll note I have the fire extinguisher right here. Now, when you're dropping your turkey into the oil, you're going very slowly. This takes up to a minute, you do not just drop this in there. Very, very slowly. A turkey typically takes 3-4 minutes per pound to fry. Ours is about ready so I'm going to go ahead and put my safety equipment on. And I'm going to remove our turkey. And here I've got my lifter and we're ready to go. Now, very carefully I'm going to use my lifting hook. I'm going to check this thing for being nice and brown, which it is. Then, I'm going to be a good doctor and take its temperature. I've got a good, perfect 165 degrees. So we are looking good, our turkey is done. And there you have it, a delicious, fried turkey that's great for every occasion whether it's Thanksgiving or tailgating. Just remember to be safe and follow all the instructions in the manual and you'll have a great time and great meal by the end of it.
In this video, you'll learn what kinds of equipment you need to be safe while deep frying, as well as how to make a delicious fried turkey that's perfect for any occasion whether it's Thanksgiving or tailgating!
Related Videos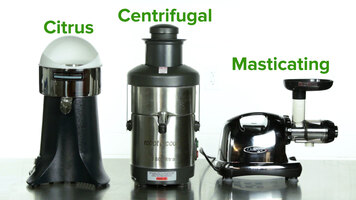 Electric Juicers
Want to start making fresh juice for your business but not sure which juicer you'll need? Watch our short video to explore the uses and benefits of different types of juicers and help determine the best one for you!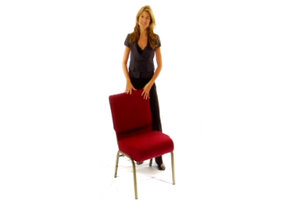 21 Inch Extra Wide Church Chair
With an extra-wide seat and a variety of color and accessory options, these Hercules church chairs are a great option for churches and worship centers. Watch this video to see all the benefits of the Hercules series church chairs!
Features of the Cambro Camrack Wash and Store System
This Cambro Camrack wash and store system will protect your glassware from airborne contaminants and provide efficient, sanitary storage for all of your glasses! It includes a stack of racks with enclosed outer walls, an enclosed dolly, and a cover.