Do you need a quality meat slicer with all the big brand features, but don't want to pay the big brand prices? Avantco equipment's commercial slicers give you all the reliability, features and benefits of a Berkel and Hobart Without break the bank. Avantco's slicers feature the production you need for your deli, sandwich shop or restaurant, and they also give you the peace of mind knowing that Avantco engineers their commercial slicers to exacting standards, and they're thoroughly tested to ensure great performance and long life. We carry Avantco slicers to suit most anyone, quarter horsepower slicers with nine, ten or twelve inch blades, and half horse power, twelve inch blade slicer like you see here for more demanding environments. Not sure which to choose for your business? No problem. At the Webstaurant store, we not only provide you with pictures descriptions and spec sheets, but we also have a buying guide to help you make the right choice. Whether you slice in the back of the house or where customers can see you, you will appreciate the Avantco slicer' sleek, professional and compact design. Not only does this machine look great, but the top quality aluminum construction is also easy to clean and very durable. Avantco's slicers give you flexibility; they can give you chunky slices as thick as a half an inch, but you can also make paper thin slices for meats like prosciutto. Want a blade that is always sharp? Avantco, just like Berkel and Hobart, include a built in knife sharpener as part of the slicer package. Sharpening is easy and can be done in less than a minute. Of course, you want your meat slicer to be safe. These Avantco slicers have a fixed ring guard to protect your hands from the blade. The Avantco blade is never fully exposed. Easy cleanup is a must, both for labor costs and food safety. Avantco slicers make thorough cleaning quick and easy, because the meat carriage, sharpener, and center blade are all simple to remove for cleanup and sanitizing. To make cleaning even easier, be sure to check out our meat slicing cleaning kit. This kit comes with an innovative cleaning wand, a pack of 60 scrub pads, Formula-D degreaser, Quik-San sanitizer, Lubriquick lubricant, a brush, and even a cut resistant glove for your safety. You get all of that for one low price, and right now you can also get a carrier to keep it all organized. Best of all, is that this kit comes with a set of detailed, step by step instructions that will make anyone an expert at slicer cleaning. Again, please be sure to check out our slicer buying guide, where you can find information on slicers, as well as all the different models we offer here at theWebstaurantstore.com.
For a high-quality meat slicer at an unbeatable price, pick up an Avantco meat slicer! It can cut thick or thin slices of choice meats at your deli, restaurant, or sandwich shop, and its aluminum construction ensures cleanup is a breeze.
Related Videos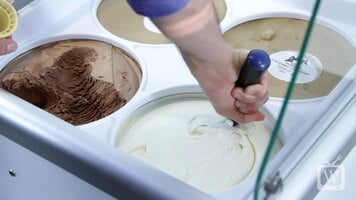 Ice Cream Dipping Cabinets
Learn how to use your Excellence brand ice cream dipping cabinets to better maximize profits on all your favorite treats! Dipping cabinets are the perfect way to display, store, and serve ice cream, sorbet, and gelato.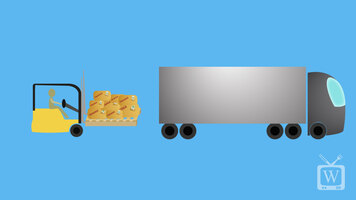 Shipping With the WEBstaurant Store
Watch this informative video to learn some tips that will help you save on shipping when you order from the WEBstaurant Store!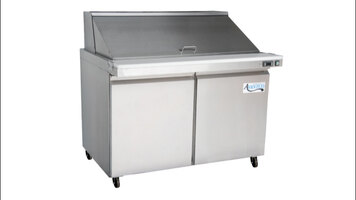 Avantco SCLM2 Megatop Salad and Sandwich Prep Table Review
This Avantco SCLM2 Megatop Prep Table makes salad and sandwich preparation a breeze! From the convenient lower fridge to the digital thermometer, the features of this prep table will make it an amazing addition to your kitchen.