The DXSM-270 and 270C bread and bagel slicers will slice French bread, bagels, hamburger buns, hoagies, biscuits, breadsticks and so much more. The bun and bagel slicer can slice and/or hinge products up to 6" wide by 3" thick as fast as the operator can feed them into the chute. It is ideal for supermarkets, bakeries, schools, delis, sub shops, restaurants, bagel shops, and caterers. The chute is removable without the need for tools for safe, easy cleaning without interference of the cutting blade. The DXSM-270 is easy to use, adjust the chute width for product fit. Adjust blade height and depth of cut to either completely slice or to hinge product. Turn slicer on, feed products into chute, remove finished product. The DXSM-270 and 270C are made in the USA and the 270C ships UPS in the continental US.
The DXSM-270C bun and bagel slicer will slice french bread, bagels, hamburger buns, hoagies, biscuits, bread sticks, and so much more! This version also offers the added bonus of being more compact for use in areas where you have limited space.
Related Videos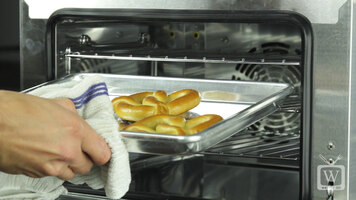 Avantco CO14 Countertop Convection Oven
Learn about the features and benefits of an Avantco CO14 countertop convection oven! Noble Gloves - Introduction
In this video, we give you an introduction to the Noble Gloves collection. With guaranteed quality and incredibly low prices, Noble Gloves is sure to have a selection of styles and sizes to fit the needs of your company. Features of the Avantco C10 Coffee Brewer
See how easy it is to brew consistently rich coffee every time with this coffee brewer from Avantco. The affordability and various other features of this brewer make it perfect for any diner, coffee shop, or break room. It's even ETL and UL listed!