Hey everybody welcome to ACP Culinary Center. I'm Chef Will Monk and today I would like to talk to you about programming the 3,000 watt Amana commercial microwave. The programming in this oven is extremely easy, just like programming any of our ovens. I would like to just walk you through the process so you can see for yourself just how easy it is. Now the first thing you want to do when the oven is off, there's nothing on the screen which means it's off. What you want to do is go ahead and open the door and just shut it right away. Which will activate the oven. "Ready" will appear in the screen, which means it's ready to program. So you just walk up, touch the book icon, which represents programming and then it'll ask you which button do you want to program. So all you have to do is go up and say I want to press program 1. So you touch number 1 and now you're in program number 1. Then you want to go ahead and enter a time. And to do that you want to touch the little clock which represents time. Time is flashing means you can put in a time. So first you'll have to clear out whatever existing time is in the oven. So just hit 0 four times it'll clear it out. Then put in whatever time you want. So let's say 25 seconds is the amount of time, there's 25 seconds in the oven. Next you'll want to go ahead and change the power level, if so desire. A lot of times you'll cook with 100% but say you're thawing something and maybe you want a little bit lower microwave. So you can hit the little scale here which represents from 0 to 100% microwave. So now the microwave power is flashing, so you can either put 0% up to 100% in 10% increments. So 0 will give you 0% power and if you want a hundred you hit 1 twice and it will give you 100% power. So say we want 60% power, touch number 6 and now there's 60% power in the oven. Now this oven is capable of doing 4 stages, just like any of our ovens. So if you want to continue within this one program and add extra stages, walk up and hit the stage key, which is this one, two, three, four scale. Which represents the different stages. We hit the scale so now were on stage two, it can do three and four. And again all you have to do is hit in what time you want. And then the power level you desire from there. And now if you like this program. So were back to stage 1 you see the 25 seconds we want to keep this all we have to do is go up and hit the book and now program 1 is saved. So you'll remain in program mode, until you open the door or hit the red button to get out of program mode. So again if you want to program a different number just go touch the number and it'll allow you go through the process again of reprogramming it, and now once you're done, again you can touch the red button or open the door and you'll be kicked out of program mode. And the oven is programmed to whatever settings you had in it. So there you go, that's just a quick overview of programming the 3,000 watt Amana professional microwaves
Programming the RC30 oven is extremely easy. This video offers a brief, visual demonstration to help get you started.
Related Videos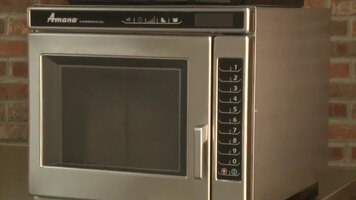 Amana Heavy Volume Ovens
Learn how Amana's heavy volume ovens can enhance your restaurant or catering kitchen! Featuring many innovative programmable settings, these ovens will help you cook or steam your foods to perfection.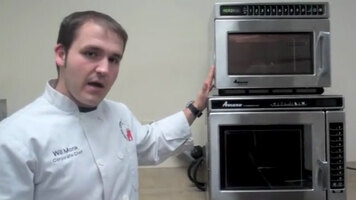 Steaming In The HDC21 and The RC30
If you're planning to use your oven for steaming, it's important to purchase an oven with over 1800W of power. Both the HDC21 oven and the RC30 oven offer the power as well as other great features that are demonstrated in this video.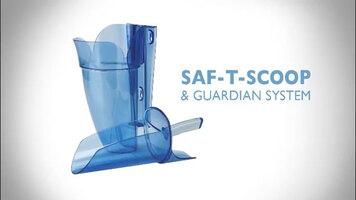 San Jamar Saf-T-Scoop
Ice is food, so treat your ice with the same care that you give the rest of your customers' meals by adding the Saf-T-Scoop from San Jamar to your commercial kitchen! Check out this short video for more information.