Now let me show you how to access the programming and edit mode in a tornado oven. With the oven in the off position, you're going to hit both arrows together, and the code number, which in this case is 3 then enter. Be sure to ask your manager for permission to make changes and your code number. It's going to show me the oven-set temperature of 500 degrees. Am I happy with that? Yes, I don't want to make any changes. Hit enter.

We're in our edit screen. Let's take a look at something we've already cooked, a sandwich. Here is the word sandwich. If I wish to change that, by using the keypad like a telephone, type in the new word. Arrow down. If I wish to change the item, use the keypad and arrow down. This is the number of times we've cooked a sandwich in this oven. If you wish to zero that out, I hit zero, and I'm done. Arrow down. Every time I'm looking for this little blinking cursor. We're at 45 seconds. I'm going to change the time. Forty-five seconds was a little too long for our sandwich, I'm going to make it 40. All I do is hit 4-0 and arrow down.

Now I'm at the IR element. This temperature ranges from 500 to 1150 degrees depending on how much bottom heat you want. I'm happy at 1050. I'm going to leave it and arrow down. Now I'm in my cooking events. Our oven allows us up to six different cooking events for each individual item. Here is our time percentage column, our air column, and our wave column. If you're cooking something that's very dense or frozen, you want to start out with a lot of wave and low air. As the product cooks, you reduce the wave, rest out from the wave, and increase the air, allowing for browning and crisping. I am happy with this setting. Here we have two cooking events. I don't want to make any more changes. I'm going to hit save, and we're done. Now to get our oven, back to its normal operating mode, I'm going to hit the back key all the way out until the oven says off. Turn the oven on, and we're done.
In this video, Chef Steve Crellin explains how to program the Turbochef Tornado oven. Although all of its controls can seem confusing at first, once mastered, the Turbochef Tornado oven will be your best friend in the kitchen!
Related Videos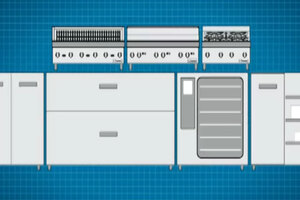 Garland Heavy Duty Counter Line
Explore the features and benefits of Garland's Heavy Duty Counter Line of cooking equipment!
How to Restore Lodge Cast Iron
Watch this video and see how easy it is to restore your Lodge cast iron! Simply scrub, wash, dry, oil, bake, and cool. Because iron is forever!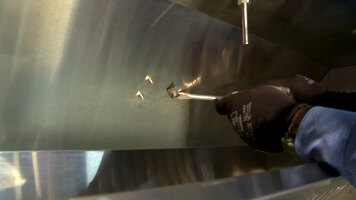 Crown Verity Badge Replacement Instructions
Watch this video and learn how to change the badge on Crown Verity's grills!