Congratulations on your Turbochef C3 oven purchase! This DVD is meant to be a visual supplement to your owner's manual, so please refer to it throughout the setup process, and be sure to keep it on hand for future reference: It's filled with a vast amount of useful information. We're sure you're anxious to get your oven up and running, so let's get started. We think you'll be pleased on just how easy this is going to be. Upon delivery, remove the oven from the shipping carton. The oven weighs 255 lbs., so you'll need some assistance. Always lift from the left and right side of the oven; never from the front and rear, and especially never from the door handle to avoid damage and/or injury. Place the oven on a countertop surface at least 30 in. deep and capable of supporting at least 265 lbs. Remove the tape, and observe and remove the caution label. After the oven is in place, remove all remaining accessories and literature from the shipping carton. In it, you'll find one ceramic cooking platter, one wave guide cap, two Teflon screens, oven cleaner, oven guard, two trigger sprayers, and a wooden paddle. Be sure to fill out the warranty activation card in order to take full advantage of the manufacturer's warranty. Once the oven is properly positioned on the counter and all packaging materials are removed, plug the oven into the appropriate receptacle. To make cleaning your oven easier, we recommend you lightly coat the interior of the oven cavity and the inside of the door panel with Turbochef Oven Guard. Simply spray Oven Guard on a towel and wipe down the interior of the oven and inside the door panel. It's important to not have any puddles or excess Guard in the bottom of the oven cavity. Next, locate the wave guide cap and ceramic platter and place them inside the oven. And that's it! The inside of your oven is set up and ready to go. Now, let's get you acquainted with your control panel. This is the display: It displays the operation and editing information. These are the soft keys: Eight oval keys used for different functions, depending on what is shown next to the button when the display is on. These are the arrow keys: They're used to access the "Edit" mode, and also to move between screens. This is the stop key: Press to stop a cook cycle. This is the numeric key pad: It's used to enter data in the "Edit" mode, and also to manually input cook times. This is the back key: It's used to move to a previous screen in the "Operation" and "Edit" modes, as well as to turn the oven off. This is the enter key: It's used to save edited information. This is the space key: It's used as a space key in the "Edit" mode, as well as to enter the number "0". Now that you're familiar with the keypad, press "oven on". The oven will begin to warm up to its predefined cooking temperature. This should take approximately 15 minutes. When the warm-up cycle is completed, the oven will beep and display the menu screen. Now, you'll be at the "Ready to Cook" menu, and you're all set up to begin using your new C3 oven. In the next section of the DVD, we'll discuss oven programming. If you need more assistance on getting started, please refer to the "Cooking Instructions" section of your owner's manual. Also, in that section you will see a step-by-step guide and useful tips on editing and customizing recipes, as well as creating your own. If you should need assistance, at any time, don't hesitate to call us at 800-90TURBO, or +1 214-379-6000. Or email Chefs@TurboChef.com. We'll be glad to help you with your specific needs over the phone or through email. Again, congratulations on your C3 oven purchase. We're sure you will enjoy the advantages of our patented Rapid Cook Technology.
This video will help you through the process of setting up your Turbochef C3 microwave oven, which uses a combination of microwave system and stirred impinged air so it can deliver lightning fast, high quality results!
Related Videos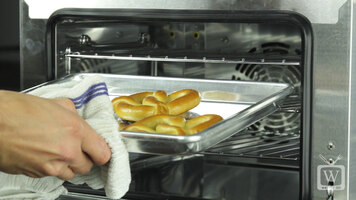 Avantco CO14 Countertop Convection Oven
Learn about the features and benefits of an Avantco CO14 countertop convection oven! Learn How to Make Funnel Cake Swirls
Gold Medal puts a twist on a classic carnival favorite with this funnel cake swirls mold! Learn how to make this sweet treat on-a-stick to keep patrons coming back for more!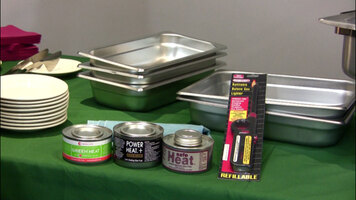 Chafer Accessories Review
Accessorize your Choice chafer with our full, 1/2, and 1/3 size food pans! Also check out our 3 types of chafer fuel, convenient microfiber cleaning cloths, and even our refillable long tip lighters.