Hello, I'm chef Steve Crellin. In this section we're going to be talking about our 2020 conveyer oven. This oven is available ventless. We can actually add a catalytic converter to the oven which means is does not need to be operated under a hood. It is the only oven of its kind listed UL ventless. We will cook this 18" margherita pizza in 2 minutes and 15 seconds. Let's cook. As you can see, our pizza is cooked perfectly. Cheese is melted perfectly, the crust is fully developed; I know, I can tell by the sound of that crust. Let's cut it. Now let's make sure that crust is fully developed. As you can see, full development on the crust. Beautiful color, excellent. Enjoy. For more information regarding our 2020 conveyer oven, please visit our website at Turbochef.com. We also have a culinary team of certified chefs that would be willing and able if you have any culinary questions.
The TurbochefChef HhC 2020 conveyor oven is the only oven of its kind listed UL Ventless! Since a catalytic converter can be added to the oven, it doesn't need to be operated under a hood. Chef Steve Crellin will highlight other features here, too.
Related Videos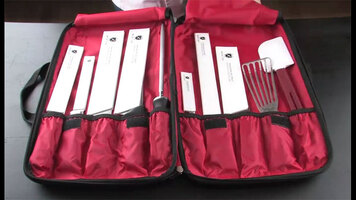 Mercer Knife Pack Plus
Transporting your knives and other tools to and from work can be a hassle, but Mercer's knife pack plus makes it easy! Boasting a useful knife carrying case and backpack, keeping your kitchen tools safe and sanitary will be a breeze.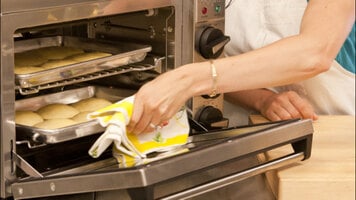 How to Bake Cookies in Your Convection Oven
See how easy it is to bake in your convection oven! In this video, we will show you how to bake lemon sugar cookies in your Waring WCO250 quarter size convection oven as well as how to whip up a delicious glaze from freshly squeezed lemon for on top!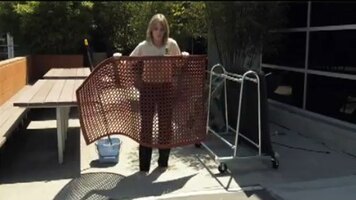 How To Clean Your Anti Fatigue Kitchen Mat
Watch this video to learn how to properly clean your rubber anti fatigue kitchen mats. All you need is some warm water, mild dish detergent, deck brush, and a secure rack to transport your anti fatigue mats between cleaning and drying.