Look at all of the great foods the Robot Coupe MP-600-Turbo immersion blender can help you prepare! It easily snaps into place to give soups and stews the convenient hands-free blending that you need. Notice how simple it is to remove the blade and replace it with wire whips to concoct a totally different kind of product like mashed potatoes, giving you that creamy, airy texture your customers crave. It can also be used for mixing up cake batter or pudding, or even for blending the ingredients of pork-fried rice! Easily mixing powdered beverages like fruit punch or iced tea is a snap with this immersion blender, too! To give you optimum control over the unit, see how easy it is to adjust the speed and disassemble for cleaning.
The Robot Coupe-600-Turbo is an efficient option for your commercial kitchen! Powerful enough for many applications and gentle enough for others, this truly versatile kitchen tool will make mixing and blending that much easier.
Related Videos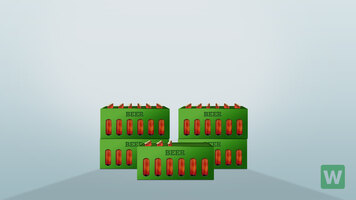 Avantco JBC25 Beer Bottle Cooler
Watch this short video to learn about the many features of Avantco's JBC25 Bottle Cooler. Whether you are serving beers behind a bar or sodas in a cafe, this bottle cooler is a great choice to help increase your establishment's profits!
True Glass Door Merchandiser Refrigerators
Learn the ins and outs of True's GDM merchandiser refrigerators!
Features of Crown Verity Portable Sink Carts
The wide variety of features and options of the Crown Verity Portable Sink Carts make these sinks perfect for all kinds of indoor and outdoor food preparation. This video will show you each of these features and how they will benefit your business!