Watch how versatile and convenient the CL55 Pusher Series food process can be! Coming to you from Robot Coupe, the CL55 can rapidly process heads of lettuce, cabbage, and red cabbage as well as carrots directly into a bin so that you simply need to mix it up for a fresh bulk salad. The CL55 bulk food processor makes things equally simple, allowing you to dump a large bowl of tomatoes directly into the extra-wide hopper for the most convenient food prep imaginable!
This video demonstrates the power and versatility of the Robot Coupe CL55 pusher series D! If your salads are in high demand and you depend on being able to make large quantities quickly, then the CL55 should be a staple in your kitchen.
Related Videos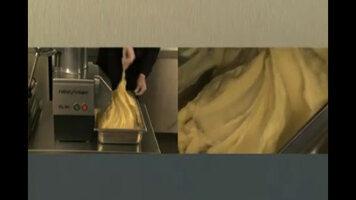 Robot Coupe CL50 Mashed Potato Attachment
Watch how to easily create consistent, delicious mashed potatoes with the Cl50 mashed potato attachment!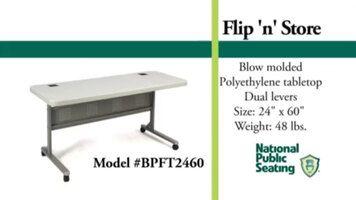 National Public Seating Flip Top Tables
The NPS Flip N' Store table is a great option for any venue requiring a seminar style set up! The multi-purpose table is light weight, easy to clean, and tested to support up to 700 lbs. Cambro Versa Food Bar for Schools
This video gives you a look at the Cambro Versa Food Bar for schools. This food bar system allows schools to quickly and easily provide food and snacks, and it also accommodates speedy menu changes.