(Transcript Unavailable)
This video demonstrates the power and versatility of the Robot Coupe CL55 pusher series D! If your salads are in high demand and you depend on being able to make large quantities quickly, then the CL55 should be a staple in your kitchen.
Related Videos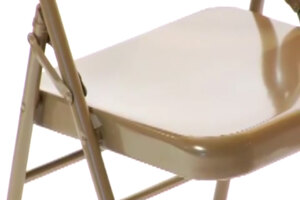 Metal Folding Chair
With triple-braced frames and quad-hinged design, these Hercules metal folding chairs are a great option for mass seating. Watch this video to see all the benefits of the Hercules series metal folding chairs! Keeping Hot Dogs Sanitary on Your Roller Grill With a Sneeze Guard
Not only will the Avantco 24 Hot Dog Roller Grill Sneeze Guard protect your food and your customers from airborne germs and bacteria, but it will ensure that you are up to local and state sanitation regulations.
Pizza Delivery Bags
Since delivering cold pizza to a hungry home owner is the easiest way to lose customers, durable, well insulated pizza bags are a vital tool for all establishments offering pizza delivery. We offer both nylon and vinyl bags in two convenient sizes!