(Transcript Unavailable)
This video demonstrates the power and versatility of the Robot Coupe CL55 pusher series D! If your salads are in high demand and you depend on being able to make large quantities quickly, then the CL55 should be a staple in your kitchen.
Related Videos KitchenAid Stand Mixer Roto Slicer / Shredder Attachment
This video takes a look at the roto slicer / shredder attachment for KitchenAid stand mixers - perfect for processing an array of firm fruits, vegetables, and more!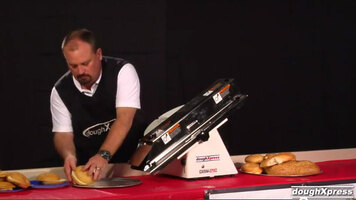 DoughXpress: DXSM-270 French Bread/Bun and Bagel Slicer
The DXSM-270 bun and bagel slicer will slice french bread, bagels, hamburger buns, hoagies, biscuits, bread sticks, and so much more! This product can slice and/or hinge products up to 6" wide by 3" thick as fast as the operator can feed it!
Robot Coupe CMP-300 Combi
The Robot shows off the CMP-300 Combi's ability to increase speed and efficiency in the kitchen. The applications for this versatile tool are endless! Check out this video to see just a few.