Pickling is an easy time tested method for intensifying the sweet and sour ends of the flavor spectrum and in doing so escalating overall flavor. Pickled onions are an excellent example of this technique. To begin carefully remove the papery skin of your onion, in this case cipollini onions. Taking care not to be wasteful. After peeling slice the cipollini onions into thin rings. Remember once the onions are pickled they will lose a little bit of their volume. To pickle the onions you will need to heat up a sugar and vinegar mixture. We'll add some spices and aromatics for extra flavor. Combine all the ingredients for your pickling liquid turn it up to a boil an pour it over your sliced onions. The pickles will pick up strong sweet and sour notes from the sugar and vinegar. To intensify the color you can add a large slice of red beat to the mixture when it is hot.
Pickling is an easy, time-tested method for intensifying the sweet and sour ends of the flavor spectrum, and in doing so, escalating overall flavor. In this video, Mercer shows you how to pickle onions and add a fresh touch to your dishes.
Related Videos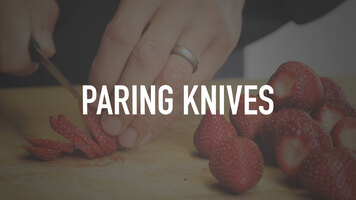 Paring Knives
Paring knives are essential for a chef – check out our versatile selection of paring knives today! We offer a variety of colors, handles, and blade edges to help meet the needs of any commercial kitchen.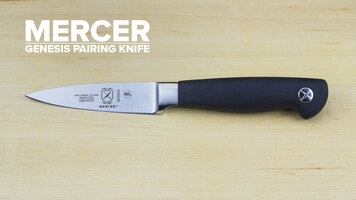 Mercer Genesis 3 1/2" Paring Knife
The Mercer Genesis 3 1/2" paring knife is perfect for projects that require a more delicate touch. From something as simple as cutting small garnishes, to as intricate as de-veining shrimp, this knife is sure to please. Check out this video for more!
Garlic Paste
Garlic is such a versatile ingredient that nearly every cuisine on the planet uses it (Italian salad dressings, Chinese stir fry, Spanish marinades, etc.). Here, Mercer demonstrates the simple process of making your own garlic paste at home.