Pickling is an easy time tested method for intensifying the sweet and sour ends of the flavor spectrum and in doing so escalating overall flavor. Pickled onions are an excellent example of this technique. To begin carefully remove the papery skin of your onion, in this case cipollini onions. Taking care not to be wasteful. After peeling slice the cipollini onions into thin rings. Remember once the onions are pickled they will lose a little bit of their volume. To pickle the onions you will need to heat up a sugar and vinegar mixture. We'll add some spices and aromatics for extra flavor. Combine all the ingredients for your pickling liquid turn it up to a boil an pour it over your sliced onions. The pickles will pick up strong sweet and sour notes from the sugar and vinegar. To intensify the color you can add a large slice of red beat to the mixture when it is hot.
Pickling is an easy, time-tested method for intensifying the sweet and sour ends of the flavor spectrum, and in doing so, escalating overall flavor. In this video, Mercer shows you how to pickle onions and add a fresh touch to your dishes.
Related Videos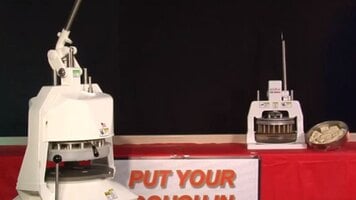 DoughXpress: DX-JN Semi-Automatic Dough Divider/Rounder
The DX-JN dough divider/rounder will divide many types of yeast-raised dough, such as bread and bun dough, pizza dough, and even tortilla dough! It offers easy-to-clean interchangeable head assemblies that make your job easier.
Robot Coupe CMP-300 Combi
The Robot shows off the CMP-300 Combi's ability to increase speed and efficiency in the kitchen. The applications for this versatile tool are endless! Check out this video to see just a few.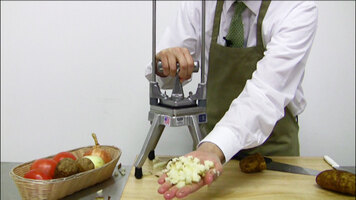 Vegetable Dicers
Dicing vegetables for soups, salads, and your signature dishes has never been easier! Use the Nemco N555000-1 Easy Chopper to save time and labor as you quickly slice and dice onions, tomatoes, potatoes, celery, and more.