(Transcript Unavailable)
Putting together your Nor-Lake Kold Locker can be done in about 15 and a half minutes. You will see how easy it is to install yourselves in this step-by-step demonstration video.
Related Videos
NorLake Walk-In Coolers
To learn about all the great features of NorLake walk-in coolers, check out this video! Incredibly easy and quick to install and great for the most demanding environments, NorLake's walk-ins are the perfect fit for your venue! Vollrath Redco InstaCut
Check out all the great features of the Vollrath Redco 5.0 InstaCut! You can slice, dice, wedge, and core all on the same machine. Watch this video and see how this unit is perfect for your kitchen.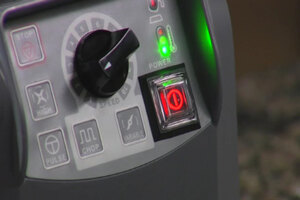 Hamilton Beach HBF600 Commercial Blender
See the Hamilton Beach HBF600 commercial blender in action! Featuring a powerful 3hp motor, this unit will chop, blend, emulsify, or grind its way onto your must-have list. Other features include a temperature gauge, adjustable speed, and dosing cup.