Hi, it's me again! Executive Chef introducing our new waffle makers from Waring Commercial. And look at this heavy-duty die-cast construction. We have a single version of 1200 watts. We have a double vertical one of 1400 watts. And now we're going to make two waffles in one single unit. This vertical unit allows you to make two waffles in one shot. The way is works is, when you turn it on, it will beep when it's ready. You pour the batter in, and it will beep when it's ready to eat. Si it'll beep when it's ready to cook, and it'll beep when it's ready to eat. And now we're going to make two waffles at the same time. Look at how much space you can save. We're going to make one on top and one on the bottom. Very easy to operate this machine. Here we go. We have the batter on the top one. I'm going to turn it. Beautiful. Embedded. We have a feature that you can turn it, and it does a perfect browning on both sides. Put the other batter in. The second it's ready, it will beep. And now we're turning it the opposite way. Very easy controls, even heat, and by the way, the embedded heating elements and the rotary feature, really give it a great baking and a beautiful browning. You're going to see the minute these are done. It will beep; I'm going to open it up, and show you exactly how beautiful these waffles are. Hear the beep? It's ready to eat. And also, the green light will come on. So you turn it off, open it up—gorgeous waffle. Absolutely flawless. And now we have the bottom one. Same thing: turn it, voila. You couldn't have done a better job with less space anywhere. Some gorgeous raspberries, some beautiful blueberries, a little powdered sugar, and perfect! From the Waring Commercial Waffle Maker.
The Waring Double Belgian Waffle Maker is not only space saving, but also has heating elements within the iron plates to perfectly bake and brown Belgian waffles every time you make them. Watch this demonstration to see how easy they are to use.
Related Videos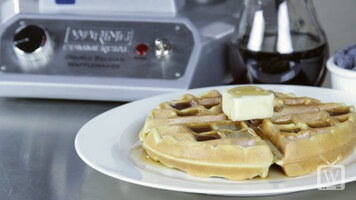 Waring Double Belgian Waffle Maker
The Waring WW200 Belgian waffle maker has 1400 watts of power and triple coated nonstick plates, making it an efficient and easy-to-clean choice for your business. Check out this video to see the other great features this waffle maker has to offer! Essential Knives to Have in Your Kit
With so many styles of knives to choose from, Corporate Chef Matt Schuler responds to which are the essentials. Watch this video to discover which knives every starting chef needs to own. Turbochef C3: Setting Up Your Oven
This video will help you through the process of setting up your Turbochef C3 microwave oven, which uses a combination of microwave system and stirred impinged air so it can deliver lightning fast, high quality results!