(Transcript Unavailable)
Use this LED Beer Sign with its 3 different modes - steady on, flashing, and crawling - to attract customers to your bar or pub!
Products In This Video

Related Products


Related Videos
Lincoln Impinger Oven 1300 Series: Troubleshooting
Troubleshooting with the 1300 series Impinger ovens from Lincoln. This video offers an overview of diagnostic messages as well as what you can do to ascertain exactly what your oven needs done!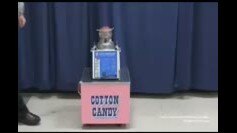 How to Operate the Auto Breeze
This video will teach you how to operate your Gold Medal Auto Breeze cotton candy machine and make piles of deliciously sweet treats!
Edlund 401 Electric Knife Sharpener
Check out how the Edlund 401 electric knife sharpener recreatesa factory fresh knife edge every time! Also, hear feedback from real chefs on how the Edlund 401 electric knife sharpener improved their business.