Hi I'm Kristen E Bobeck from Cambro's marketing department. I'll be going over the features and benefits from the camshelving divider bar accessory. Divider bars help you to create a custom storage unit that can accommodate a variety of products on a single camshelving unit. Divider bars come in straight and angled designs. Divider bars feature a raised retaining edge to keep racks and pans from sliving off the front of the unit. For hygienic food storage, use cam-ware polycarbonate food storage boxes with sliding lids. Food pans ranging from full size to 1/9 can fit in any combination with the divider bars. Also cam-racks fit on divider bars to create a ware, washing, and storage solution. Let's see how divider bars work with camshelving. To add divider bars to camshelving, decide on the configuration that you would like to create. If you chose an angled arrangement, make sure you are using the angle divider bar. Next, decide on a location that you would like to place the divider bar. Place point A of the divider bar on the front to traverse and snap into place. Then place point B on the rear to traverse and snap into place. Repeat these steps to create the desired configurations. To remove divider bars use the flat edge of the bar to dislodge the front and back connecting pints from the traverses. As we've seen, divider bars are the perfect accessory for your camshelving unit.
You can create a custom Camshelving storage unit or ware washing station by using these Cambro Camshelving divider bars. No matter what you need to store, check out this video and see how easy it is to use them in a variety of configurations!
Related Videos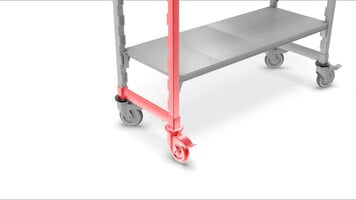 Cambro Camshelving Premium Series: Casters
Install casters on your Cambro Camshelving unit by following these simple steps! Once finished, your unit will be mobile and ready for use.
Cambro Camshelving Premium Series
Looking for a durable shelving unit for your foodservice operation? Check out Cambro's Premium series camshelving! These shelves won't bow under heavy weight, which makes them long-lasting and reliable.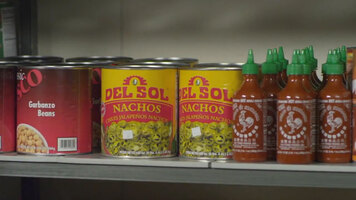 Cambro Camshelving: Overview
Keeping an organized kitchen is one of the key things in maintaining efficiency and productivity - that's why you need Cambro camshelving! Durable and rust-resistant, camshelving is the perfect solution for your busy kitchen.