Everyday your glassware is under constant attach from contaminates flying around in the air. Cambro Camrack provide a barrier between your clean glassware and the dust, dirt, bacteria, and insects trying to invade them. The Camrack system is composed of three main parts; a stack of racks that have an enclosed outer wall, an enclosed dolly that seals from the bottom, and a cover that seals from the top.
This Cambro Camrack wash and store system will protect your glassware from airborne contaminants and provide efficient, sanitary storage for all of your glasses! It includes a stack of racks with enclosed outer walls, an enclosed dolly, and a cover.
Related Videos Star Humidified Display Case
Learn about the features and benefits of Star humidified display cases!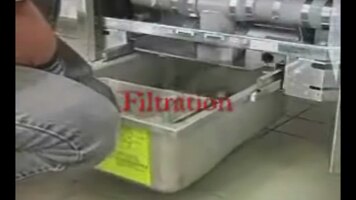 Frymaster E4 Series - Filtration
Filtration is another necessary part of preventative maintenance. This video will show you the proper way to use the filter system in your Frymaster E4 Series fryer.
Robot Coupe CL-50-E
Robot Coupe demonstrates their CL-50-E product and how it simplifies the process of making that time-tested, Thanksgiving favorite--smooth, creamy mashed potatoes!