Replacing the blades on your French Fry Cutters and dicers is very easy, and you'll have your machine working like new. If you are buying a complete assembly, it comes all put together, so all you have to do is remove the thumbscrews on the old assembly and replace. If you are only changing the blades, it's a bit more involved but first, you'll start the same way by removing the thumbscrews and then the blade-set. Now that we've done that, we're going to remove the Phillips head screws from the blade holder assembly. This will allow us to knock out the spacers and the old set of blades. Now you can see I'm using the same screwdriver to help me tap the blades and spacers out. After which, I'm going to place the blade holder on the table top with the blade spacer pockets upward and insert the four blade spacers with their slots towards the inner opening. Then, I'll insert the first set of blades that have the sharp edge downward and the slots upward. After that, we're going to insert the blades that have the sharp edge and the slots downwards. You'll see that sometimes it takes a little bit of wiggling to get that first blade in. One little tip that I found that makes this job easier is to insert a blade on either side of the blade-set and then work your way inwards. It just seems to go easier that way. Now that all of the blades are reinserted, just reattach the blade holder plate and secure it with the Phillips head screws. Finally, we're going to replace the blade holder assembly with the sharp edges pointing inward and we're going to reattach with the thumbscrews. Thank you for watching, and if you have any questions, please feel free to use our live chat button.
Learn how to replace the blade on your french fry cutter with this step-by-step visual demonstration.
Once your complete this blade replacement process, your french fry cutter will work like new so you can get back to making hot, fresh french fries in no time!
Related Videos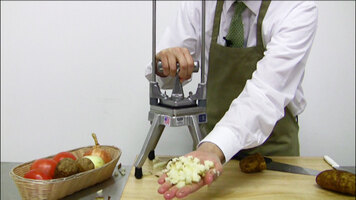 Vegetable Dicers
Dicing vegetables for soups, salads, and your signature dishes has never been easier! Use the Nemco N55500-1 Easy Chopper to save time and labor as you quickly slice and dice onions, tomatoes, potatoes, celery, and more.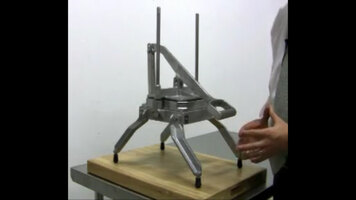 Nemco Easy Lettuce Cutter
If you prefer to shred your own lettuce but hate the hassle, then the Nemco easy lettuce cutter is for you! Learn how you can save money and prevent browning by cutting and shredding lettuce with the Nemco Lettuce Cutter.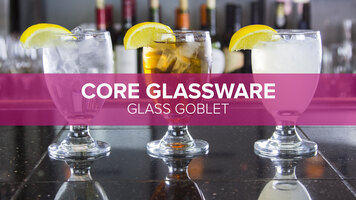 Core Glass Goblet
Check out this video to see how the versatile Core glass goblet could be used at your business! Featuring a heavy foot and 10.5 oz. capacity, this glass is great for a variety of beverages.