As the world's leading manufacturer of high density polyurethane folding tables and chair, lifetime products has revolutionized the industry with their contoured folding chairs. Lifetime chairs are perfect for your home, office, or next event. They are durable, lightweight and best of all comfortable. The unique contour design of lifetime folding chairs makes them the more comfortable than any other folding chair on the market. They have a wide seat and tall back to support you in all the right places. Our engineers specifically designed our chairs to be ergonomic and comfortable for all sizes and shapes. Contracted of high density polyethylene and power coated steel, lifetime chairs exceed commercial furniture standards insuring superior strength and durability. With a UV protected seat and back, and an all-weather rust resistant powder coasted steel frame, lifetime chairs are perfect for indoor and outdoor use. Lifetime chairs hold over 500 pounds and are available in white, almond, putty and black. Their stain resistant and easy to clean, they will not crack, chip, or peel. So wherever your next event takes place, you can count on the comfortable, durable chairs from Lifetime products. So take a look around and you will see Lifetime tables and chairs everywhere: homes, banquets, offices, and the next group gathering. Our quality construction and quality designs have made Lifetime Chairs, number one in the industry.
Learn how the contoured design of these Lifetime folding chairs make them durable, lightweight, and the most comfortable folding chairs on the market! These chairs can hold over 500 lb. and feature an all-weather, rust resistant frame.
Products In This Video


Related Products


Related Videos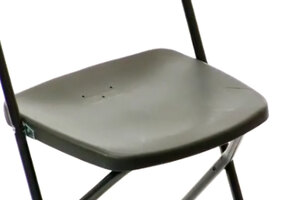 Folding Chairs
With durable steel frames and the ability for indoor or outdoor seating, these Hercules plastic folding chairs are a great option for any event. Watch this video to see all the benefits of the Hercules series plastic folding chairs!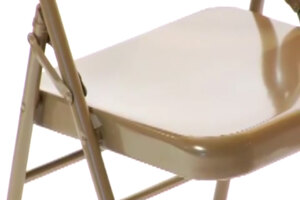 Metal Folding Chair
With triple-braced frames and quad-hinged design, these Hercules metal folding chairs are a great option for mass seating. Watch this video to see all the benefits of the Hercules series metal folding chairs!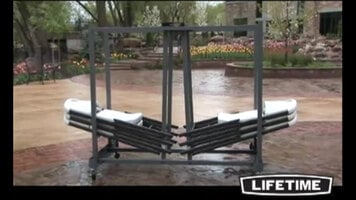 Features of the Lifetime Chair Cart
Storing and transporting all of your Lifetime folding chairs is easy with this mobile and durable Lifetime chair cart! The powder coated finish of this cart guarantees that it will not rust, crack, chip or peel, making it ideal for commercial use.