Let's face it; nobody likes the task of opening a bunch of cans. With a standard can opener, the job is a real chore. What's worse is that a regular can opener can leave you with dangerous sharp edges and you can even leave metal shavings behind in the food you'll be serving. Hi, I'm Steve Ziegler, product expert at the WEBstaurant Store. In this demonstration I'm going to show you how the Nemco CanPro can opener can make the job of opening cans easy, safe, and sanitary. Let's take a look. One thing I want to mention before we begin is you'll notice this Nemco CanPro can opener is more expensive than the cheapest restaurant can openers out there. There are very good reasons for that. Let me just tell you about two of them right now. First of all, this has a very heavy, stainless steel construction, not that cast aluminum stuff you get with the cheapest can openers. The other thing is that this is NSF approved, so if sanitation is an important issue to you, this is the can opener for you. Alright, now to cut a can. First thing you're going to do is you're going to lift the unit up, and slide the can back against the base and put the unit back down on the can. Now, you're going to take this lever and you're going to push it down gently. There is no need to slam it like you would with a regular can opener. And we're going to go for a number ten can, we're going to go six revolutions. Now when you do this, when I did it the first time, it felt like I wasn't doing anything at all, so don't be fooled. Just go ahead and do your six revolutions. One, two, three, four, five, six. That is so easy, so much easier than a regular can opener. I'm going to lift my lever again, pull this out, and just take a look. It felt like we didn't do anything, but there you have it. You can see, this is a nice edge and it doesn't hurt, it doesn't cut at all, and the lid did not fall down into the can. It's as easy as that. When the blade in your Nemco CanPro can opener becomes dull, the easiest way to switch it out is to purchase a new cutter housing. In fact, when you buy a CanPro can open, I recommend you get a cutter housing with it, that way you'll never have any down time. This is how you'll switch this out. All you have to do is lift the lever, release the pin on the side, you can bring the cutter head up, and pull this cutter housing right out. Then get your new unit. That just slides right in, and you can see this is much easier than changing the blades on an old number one can opener. Replace your pin and you are all set to go. To replace just the cutter blade in your Nemco CanPro can opener, what you'll do is you'll release this lever, pull the pin, lift your head up, and slide out the cutter housing. Now, you'll see on your cutter housing, it'll actually tell you which way is tight and which way is loose, and it'll show you on both sides. You'll just use your wrenches to take this apart and you can see this diagram here shows you exactly how to do it.
This Nemco manual can opener will lessen the stress on your elbows and let you say goodbye for good to "lift, slam, puncture, and rip" can opening methods! See just how easy this can opener is to use and learn how change the cutter housing.
Related Videos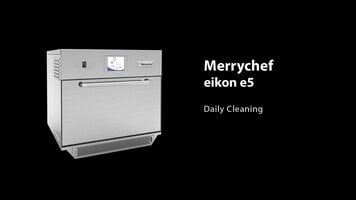 Merrychef eikon e5 Combination Oven: Cleaning
Learn the daily cleaning procedure for the Merrychef eikon e5 combination oven by watching this informative video!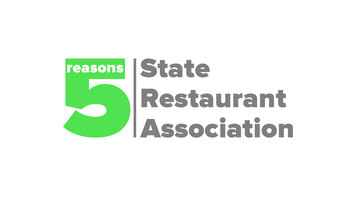 Five Reasons to Join Your State Restaurant Association
Learn about the benefits and reasons why you should join your state restaurant association!
Lincoln Impinger Oven 1300 Series: Weekly Cleaning
The weekly cleaning procedure for 1300 series Impinger ovens from Lincoln is reviewed. Follow these guidelines to keep the exterior and interior clean.