And that is the Nemco Easy Chopper Vegetable Dicer. Let's take a closer look. First, we offer both the standard Easy Chopper and the Easy Chopper II for larger vegetables. We stock both of these with cut sizes of 3/8 of an inch and quarter inch, and the Easy Chopper II also comes in a half inch cut size. Now onions aren't the only veggies that these things will chop. Let's say you wanted to chop a cucumber. First thing you do is slice these ends off here to make nice square ends. Put your cucumber in the Easy Chopper and press down, and you have these beautiful little batons here. Now, if you would want to dice this, all you'll have to do is gather up your batons, stack them in a line, cut them so they'll fit, and you can see, perfect dice. How about a tomato? This tomato is a little large. You can see I already cored it. I'm going to just cut it in half, and then I'm going to put it in the Easy Chopper just like so. Put it right down on the blade. Be careful not to cut yourself. And then you're just going to punch it right down. You can see how easily that chopped it. Now if you want to make it a finer dice, just put these pieces back on top, and you can see what kind of nice dice we got out of that. Perfect for making salsa. Now the next thing I'm going to dice is a potato. I'm going to dice this up for some soup. First thing I'm going to do though is I'm going to cut this in half, so when I go to make the batons they are going to be small enough to put back on this dicer grid. You can see what I'm going to do right here is just put it right there. Now sometimes with something like a potato, it's going to take two pushes to get this through here, but let's see how this goes. There you can see how that worked. Now you just take your batons that you made, now this makes perfect French fries this way if I put the whole potato in, it would make nice long fries. But if you want to see a nice dice here, just go like this, make sure they are all on the grid, keep your hand out then, and you can see what a perfect dice that is. The blades and pusher blocks are very long lasting on the Nemco Easy Chopper, but if you wanted to change either of those, you can find them in the companion items section of this page. To take the blade assembly off, just remove the pusher block assembly, and then you will just pull these rubber stoppers up off the guide posts. Once that's done, you can take just your blade assembly, and slide it up the guide posts. You can either do this to clean it or if you wanted to change this whole assembly you can go ahead and put your new assembly on. Now, if you wanted to change the pusher block or the individual blades within this assembly, you can find short videos on how to do that in the item descriptions for those products.
Dicing vegetables for soups, salads, and your signature dishes has never been easier! Use the Nemco N55500-1 Easy Chopper to save time and labor as you quickly slice and dice onions, tomatoes, potatoes, celery, and more.
Related Videos
How To Replace the Pusher Block On Your Nemco Easy Chopper
Changing the pusher block assembly on your Nemco N55500-1 Easy Chopper Vegetable Dicer requires no special tools or skills. In this video, you will learn how to replace the pusher block quickly and easily.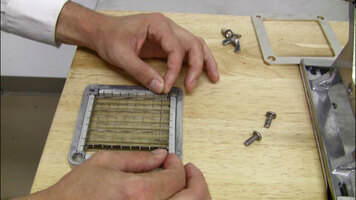 Fry Cutter Blade Replacement
Learn how to replace the blade on your french fry cutter with this step-by-step visual demonstration.
Rubbermaid Pelouze 832WQ QuickStop 32 oz. Portion Scale
Measure out the correct portion of ingredients in your kitchen with the Rubbermaid 832WQ QuickStop 32 oz. portion scale! Watch this video to learn more about the NSF Listed unit.