Whether you serve hamburgers, subs, or salads, a tomato slicer is an essential tool for your kitchen. Hi I'm Steve Ziegler, product expert at the Webstaurant store. Today I'm going to be demonstrating the use and care of the Nemco easy tomato slicer. First I wanted to mention, if you're looking for a value-priced unit, we do have this imported tomato slicer which is great for light to medium duty applications. This is a terrific unit at a very low price. Most of what I tell you about the Nemco unit will apply to this one as well. The biggest difference is that this is not NSF approved, while the Nemco Easy Slicer is an NSF model. Now if you are looking for a very heavy duty unit, we have this Nemco Easy Tomato Slicer II available as well. First, let's take a closer look at the Nemco Easy Tomato Slicer. The first thing you'll notice about this unit is that it has a very small footprint. It's only 8" wide by 15" long. It's compact and very portable. The heavy rubber feat and the table stop will prevent this unit from moving around while we work. To operate, we are going to move this pusher back towards me, take our tomato with the core removed, and place it on the board. I'm going to put my left hand on top of this blade holder, and with my right hand I'm going to grab this handle. Now let's see why they call this the easy tomato slicer. Isn't that easy? We have 3/16 inch for the slightly thicker 1/4 inch slice styles available. They're not interchangeable though, so if for some reason you need two different thicknesses of tomato, you'll have to buy two. Let's do a few more tomatoes and see how fast we can fill up this prep table pan. You can use larger tomatoes, and you can use tiny tomatoes. All different types and sizes will go right through this unit. And there you have it! If you've been using a knife all of this time, you can see how much time you've been wasting. The other question that we often get with tomato slicers is how to replace the blades. Although these blades are long-lasting, they will dull over time. You can find the correct blades by looking in the companion items for your tomato slicer. It's always a good idea to have a spare set of blades. So when you order a slicer, order a spare set of blades. If you click on item details, for the easy slicer blade, you can view a video that will show you how to change out the blades. Thank you for watching, and if you have any questions or comments, please feel free to use our live chat button!
Stop wasting precious time in the kitchen slicing tomatoes with a knife! With a Nemco Easy Slicer, you can cut all different sizes and shapes of tomatoes so whether you're serving hamburgers, subs, or salads, you get the perfect tomato every time.
Related Videos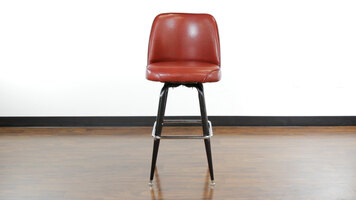 Lancaster Table and Seating Barstool Assembly
Watch our short video to learn how quick and easy it is to assemble your new Lancaster Table and Seating barstools! Waring WSB25 Quik Stik Demonstration
Check out how the cordless Waring WSB25 Quik Stik immersion blender will make life in your kitchen much more convenient and efficient! Learn about its high power and mobility capabilities that make this a versatile kitchen gadget! High Chair Assembly
Unassembled high chairs are a great way to save money on shipping! This instructional video will teach you how to assemble your chair from the legs to the crotch strap so you can be sure that the children you serve are safe and comfortable.