Core dinnerware. Why choose Core dinnerware? Among their many benefits, these dinnerware pieces are versatile, sturdy, and a great value. They are available in a variety of sizes and shapes to accommodate virtually any table setting. For a classic and elegant look, choose an ivory round platter. For a trendy, contemporary vibe, select one of our square shaped plates with a wide rim. The classic colors and shapes are sure to brighten up your dining area for a clean and professional look. Core offers durability that your guests have come to expect from their favorite traditional china dinnerware. The sturdy forms decrease the risk of breakage and lessen the need for replacements. From banquets to casual dining restaurants, Core dinnerware withstands frequent use. Why pay more when you can buy Core china dinnerware at a fraction of the price? Suitable for busy bar environments and catered events, your guests and staff will love this dinnerware option. Not only is it dependable, but it looks great too!
Boasting a great value and unbeatable price, Core dinnerware is the ideal choice for busy bars, restaurants, or catered events. Available in a variety of sizes and shapes to accommodate virtually any table setting, you'll have no trouble finding the perfect set for your establishment.
Related Videos Avantco JBC50 Beer Bottle Cooler
Learn about the best features of the Avantco JBC50 beer bottle cooler and why it's the perfect addition to your bar!
Taylor TS Mechanical Portion Control Scales
Get portability, NSF approval, and reliability in a small and inexpensive package through the Taylor TS Mechanical Portion Control Scales! This video will walk you through the initial set up of your scale as well as how to use the tare function.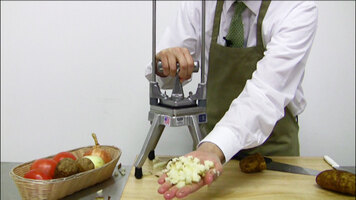 Vegetable Dicers
Dicing vegetables for soups, salads, and your signature dishes has never been easier! Use the Nemco N55500-1 Easy Chopper to save time and labor as you quickly slice and dice onions, tomatoes, potatoes, celery, and more.