Welcome to Vollrath University. I'm Chef Rich and today we're here to introduce to you this new line of Vollrath slicers. Okay, first of all, across the Vollrath line of slicers, you'll notice a few things. The nonstick coatings. We have nonstick coatings on both the gauge plate and on the cover of the blade. These are to aid in clean up and also to reduce drag when you're cutting fatty meats or cheeses. That's common across all of our products. A couple of safety features that are common. The hand guard. You'll notice that each one of these slicers has a hand guard. So, this is a nice feature to have when someone has the product tray forward and it prevents them from reaching over the top and accidentally touching the blade. Also, on the backside we have a thumb guard so even when it's in its most forward position, the blade is still fully protected on the backside. All units have a safety switch. The safety switch is designed to not allow the unit to restart when power has been interrupted. You must reset the switch, so that's a nice feature to have for safety. That's common across the line. All these units are belt driven units and they have a five year warranty on the belt, so no worries about the belt drive on these units. Excellent, excellent quality. They're all either a 25 or 35 degree angle and this is nice so that when you're slicing, you're more at an upright position. The 25 degree angle is most upright, 35 a little bit more, but still way better than a 45 degree angle where you're really leaning over and it's just not as comfortable for an operator. So, much more ergonomically designed. Okay, so the medium duty units, then. In the medium duty line, we have a 10" and 12" unit. Both of these are perfect for lower volume restaurants and delis for slicing meats. Both of these feature up to 1/2" slicing thickness. As I said, they're perfect for lower volume and this 10" unit is really, really nice for a catering operation to be able to take this on site and slice fresh meats on site. I mean, nothing beats fresh is best, right? Another feature of these units is both the product trays can be removed, so these can be taken off and taken to the pot and pan sink for easy cleaning. Okay, so now let's talk about the 2 heavy duty units. Both of these units are excellent for higher volume operations. They're both rated for continuous duty of both meats and cheeses and they're both up to a 1" thick slice thickness. So, the 12" unit, then. A couple of features here. The carriage is removable as we've mentioned, and also, it has a carriage lock feature so when we want to remove the carriage, we lock it in the fully back position. That also locks the gauge plate in place, so this cannot be opened and expose the edge of the blade, so a much safer blade system. Speaking of the blade, we do offer a blade removal tool as well with this unit to be able to safely and easily remove the blade. Okay, now let's talk about our true 13" deli unit. Okay, 13" blade, larger blade to handle larger pieces of meats and cheeses that you find in the deli. For those units, for those pieces of meat and cheese, we also have larger product trays. You can see here a large tray and also a larger pusher plate. The pusher plate on this unit is easily removed to take that to the pot and pan sink for easy cleaning. The carriage on this unit does open. It tilts open. It is not removable. To tilt to the open position, we push it fully back. It has a carriage locking feature. That's a nice feature to have because what it'll also do is the gauge plate here then will lock and not allow the blade to be exposed, again as a safety feature. Speaking of cleaning, the kickstand feature on this unit. We have a kickstand that you can pull up and the unit will lift so that allows for easy cleaning underneath the unit. Precision cuts, that's important in any deli and on this unit we have a dual stage cam system that allows for great precision for those thin deli cuts. The unit comes with a blade removal tool so we can easily take the blade off for easy cleaning and replacement. All these units then are designed and manufactured to the NSF-8 sanitation standard. For more information on any of these products or any others, please see us online at Vollrath.com.
Learn how Vollrath electric slicers can promote efficiency in your deli or catering kitchen! They come in a variety of sizes with safety features that protect users from potential injuries.
Related Videos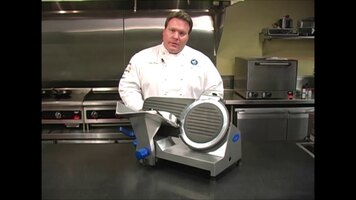 How to Clean a Slicer
This video shows you how to clean your Vollrath slicer. This presentation will help you to efficiently, quickly, and safely clean the slicer blade, food tray, and other components.
Doyon DSF Semi-Automatic Dough Divider
If you are in need of an easy-to-use dough divider, look no further! Doyon's DSF semi-automatic dough divider is the perfect addition to your bakery or pizza shop.
Knife Cases
Knife cases are ideal for storing, organizing, and transporting all of your cutlery, ensuring you have what you need wherever you go! Made in a variety of materials, these cases protect your blades from damage and prevent injuries in the kitchen.