Hi, I'm Steven Stohrer. I'm vice president of US Sales here at ACP. ACP is a manufacture of Amana Commercial and MENUMASTER Commercial high-speed microwave ovens. Today I'm going to show you how to program the ACP. There's a couple ways to program the oven. The first option is to use the new ACP Web App to create recipes and transfer the information via USB flash drive, or WiFi. This can also be used to modify user options. The second option is to program the oven manually. Once you've created your oven settings in the new ACP Web App, insert a flash drive into the computer. Save the XML files onto the flash drive. Then, select the menu icon on the oven control panel. Select "load file" and insert the flash drive into the USB port. You are now ready to begin cooking. To program the oven and manually create a recipe, first make sure the manual cooking mode is enabled in the user options menu. Next, select a menu icon on the oven control panel. Then select manual recipe. Input the appropriate cook settings for the menu item. It will then prompt you to select an image and name the menu item. Be sure to select the "save" item when you're finished to save your icon. To modify user options such as oven temperature, key beef volume, select a menu icon. Now you may modify the various user options based on your own preferences.
Programming this oven is simple and quick. In less than one minute, learn how you can modify user options and create manual recipes on your Amana AXP22T oven.
Related Videos
Amana AXP22T Overview
Any kitchen can benefit from the Amana AXP22T microwave oven. This short video will tell you why you should choose Amana and what it can do for your kitchen -- and your customers!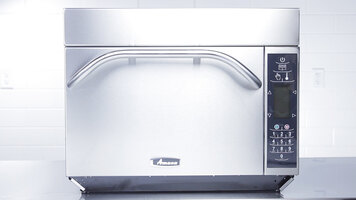 Amana Xpress AXP22 High-Speed Microwave / Convection Oven
Watch this short video to learn about the impressive capabilities of the Amana Xpress AXP22 high-speed microwave / convection oven!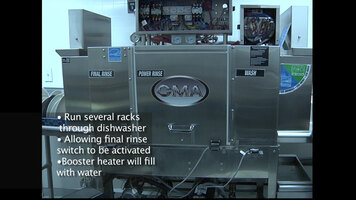 CMA Conveyor Dishwasher Training Part 2
Learn how to properly install and use your E-temp booster heater and other related conveyor dishwasher functions with this simple step-by-step tutorial from CMA!