WFP16S series sealed LiquiLock food processors. Die-cast motor housing. Safety interlock. S-Blade. Liquilock seal system. Reversible shredding disc. Medium shred. Fine shred. Adjustable slicing blade. 16 thickness options. 6 mm. 1 mm. Whipping disc. LiquiLock seal system. Fresh whipped cream, or continue mixing to create fresh herb butter. Continuous feed chute and dicing assembly. Slinger. 3/8" dicing grid. 3/8" slicing disc. Dices 1000 lbs. / hr. Slices 1185 lbs. / hr. Shreds 430 lbs. / hr. Cleaning the dicing grid.
Learn about all the features of Waring's WFP16 series of food processors, and watch them in action, processing a variety of foods with both the batch bowl and continuous feed attachments. Check out this video to find out more!
Related Videos
Waring WFP16S Food Processor
Watch this video to learn about all the unique features this Waring WFP16S food processor has over other processors in its class. From a 2 HP motor to a whipping disk, this Waring product takes a step above the rest.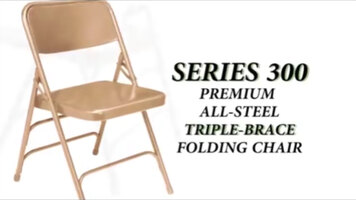 National Public Seating 300 Series Folding Chairs
Need a heavy-duty folding chair for your institution? Check out National Public Seating's 300 series folding chair! Available in 5 different colors, this workhorse folding chair features an 18 gauge frame and ergonomic back rest. How to Replace Your High Chair Crotch Strap
The crotch strap to a high chair is a must have for keeping toddlers safe at your restaurant. When these begin to wear out or fray, they become unsafe. Check out this video and see just how easy it is to replace your high chair crotch strap.