If power is what you want in blenders, it's right here in the MX series. 3.5 hp, powerful enough to do just about anything in the bar, in the kitchen, in the smoothie shop, just about anything you'd want. And the Xtreme series has every possible configuration you'll need in a blender; toggle switch, memory control, timer, it comes with different jars from stainless steel to 48 oz. and the newest jar of all, the Raptor right here! Wait until you see what it can do! 3.5 hp will make this blender blast anything from ice to margaritas to smoothies to coffee drinks. Let me show you exactly how everything works. Ok so you thought ice crushing was easy? Not in any blender but ours, with the Raptor jar. OK we're going to put some ice in here, and I'm going to blend it on high for 3 - 4 seconds. Wow! It's done, unbelievable! OK, take a look at that. Have you seen anything so powerful? The Raptor jar! OK you saw the ice, and that's why we call it the Raptor, it's so impressive, it'll do drinks, literally anything, literally in seconds. We have a 10 second timer here and we're going to do a strawberry daiquiri with a strawberry mix, some rum, a bucket full of ice, and you think it can't do it? Watch this. Even one more last ice cube. See, didn't have to do anything. Now we're going to have a fantastic drink. Look at this, it's like a gelato! It's so thick and gorgeous and beautiful. Voila! Mmmm! Perfect! Perfect! That was some extreme power, but what about the warranty? 3 years on the motor, 2 years parts and labor - that is what Waring does for you. Great blender series, the Xtreme.
With its innovative Raptor jar, Waring's MX1300 Xtreme series of blenders delivers the power and performance you need to crush ice, make frozen drinks, and perform a variety of other tasks in mere seconds! Check out this video to find out more.
Related Videos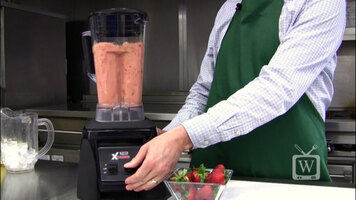 Waring MX Series Blenders
With its 3 1/2 horsepower, the Waring MX blender is great for blending everything from food to bar drinks! Learn how to make a great strawberry-banana smoothie with the Waring MX blender.
Dexter-Russell Duo-Glide Utility Knife
Slice, dice, and chop small fruits and vegetables with the Dexter-Russell Duo-Glide utility knife! With a wide blade and comfortable grip, you can tackle cutting tasks with ease!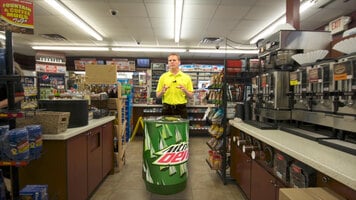 Iowa Rotocast Plastics Iceberg Coolers
Looking for a durable cooler that will stand up to everyday use? Try the Iowa Rotocast plastic iceberg cooler! Featuring a unique shape and optional reduction shelf, this cooler is perfect for your store!