NPS has expanded its popular performing arts offering of stages to include the Transfix stage line of four foot by four foot platforms offered in two adjustable height options available in both cardboard and a variety of carpeted surfaces. These new lighter-weight, portable platform pieces are the perfect solution for one-person set up. Simply open and lock legs in place while stage is on optional dolly. Select desired leg height using our plated 14 gauge adjustable legs and clevis pin system and then lower to floor in one simple motion. Roll to the desired location on built-in caster wheels and gang together multiple platforms to create large or small stages of your choosing. Also suitable to connect to standard four foot by eight foot NPS stage platforms to create various sizes and configurations, and can even be used with highs for creating ring, oval, or bow-shaped performing arts set ups. NPS safety guard rails, steps, and optional skirting are also compatible with Transfix stages. Transfix stages by NPS ship in 48 hours from stock, are MAS Certified Green, and carry a 10 year manufacturer warranty.
Easily create a custom stage suitable for your facility with NPS's line of Transfix stages! They're available in two height options and only require one person to set up.
Related Videos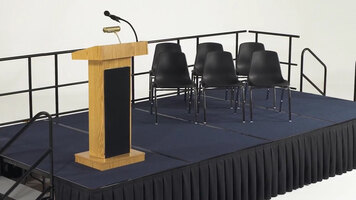 National Public Seating Stage Assembly
Need a full stage or set of seated risers for your venue? Try the National Public Seating stage! This step-by-step tutorial will walk you through the easy steps of assembly, guaranteeing you a reliable and sturdy unit.
Hobart 4732 Chopper
Learn how to properly assemble, clean, and operate your Hobart model 4732 chopper with this informative, step-by-step video.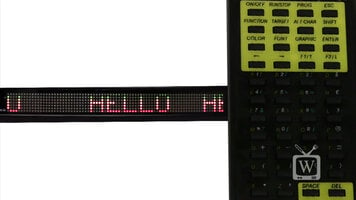 Pro-Lite TruColor II Scrolling Color LED Sign
With 16 colors, 28 color arrangements, 26 pre-programed graphics, and 25 programed text effects to choose from, getting a customer's attention has never been easier than with the Pro-Lite TruColor II Scrolling Color LED sign!