Can you or your customers afford to risk everything on the serious problems associated with not controlling flies in your place of business? Why we are even concerned about flies? To begin with, flies are one of the filthiest insects on the planet. They spend most of their time breeding and searching for food. Flies are in constant contact with decaying material, food particles or garbage. Flies are known to carry such diseases such as e-coli, salmonella, and dysentery. Paraclipse takes the risk out of fly control. We have been producing fly traps for the commercial industry since 1993. Paraclipse products have consistently been the leaders in the industry for controlling flies in restaurants, delis, supermarkets, hospitals, and any other areas where food is being processed, prepared or consumed. Health departments throughout the United States have become more and more aware of the problems flies can cause. Therefore, they have taken harsher steps in having food processing areas avoid potential fly problems within facilities such as hospitals, restaurants and factories. The Paraclipse line of insect control products has been developed over the past 11 years with the specific purpose of helping your customers rid themselves of this terrible insect, making their place of business cleaner, healthier, and more profitable. Insect Inn Ultra decorative units have been installed in the public areas of this restaurant, and the Paraclipse terminator has been installed in the kitchen. These units have effectively eliminated the fly problem. Here is where all the flies are. The Insect Inn Ultra comes in two models: The Insect Inn Ultra 1, which is a single lamp unit, and the Insect Inn Ultra 2, a two lamp unit which draws flies from a further distance. Both Insect Inn Ultras are decorative and designed to be used in public areas. The unique design of this product allows you to place the trap right where the problem is without anyone even knowing they're there. To customers, it looks like a decorative wall sconce. All of our insect traps utilize ultra violet light as the initial attractant to pull flies into the trap. These ultra violet lamps utilize a precise frequency range of ultra violet light that is specifically designed to attract flies. To maintain the correct ultra violet light level, the lamp should be changed every 7 months in most climates of the world. Although the light still appears to be working, it will not be putting out the level of ultra violet light which attracts flies if the ultra violet lamp is not replaced as recommended. Changing the lamp is easy. Unplug the unit from the electrical outlet, remove the cover, and remove and discard the lamp, and replace it with the new one. Paraclipse has engineered this unit top, which directs the ultra violet light out and down into the room right where the flies are. As a result, flies are more likely to see the attracting light and be drawn into the trap. When it comes to fly control, you need a winner. Paraclipse's revolutionary auto advancing cartridge system is the best. Flies in a trap versus flies in your place of business are like money in the bank. Our cartridge system simply catches more flies. When you compare the number of flies caught in the competitors' glue board to the total number of flies caught by our new day 60 cartridge system, you can easily see why the Paraclipse auto advancing cartridge system is a far superior product. Paraclipse has invented and patented this new auto advancing cartridge system. A small motor within the main unit drives the cartridge. This slow moving motor advances the catch surface 24 hours a day, 7 days a week for 60 days. Paraclipse is the only company to offer this unique auto advancing fly collection system. The Paraclipse auto advancing cartridge sits directly beneath the ultra violet lamp. This placement improves the fly catch. Paraclipse has blended sex pheromones and food scents right in the glue used on our trapping surface. In doing so, the flies' basic feeding and reproduction instincts are triggered. Fly decoys imprinted on the cartridge catch surface add to the traps effectiveness. The combination of attractants and decoys on our unique trapping surface gives the Paraclipse fly control systems a powerful and far superior trapping capability. As flying insects become trapped, the motorized mechanism carries flies into the take up reel of the cartridge. This action is constantly, quietly and safely encapsulating the trapped flies and continually presenting a fresh adhesive surface and attractant. This fresh catch surface also prevents the surface from becoming contaminated by airborne particles of dust or grease, thereby leaving the trap unaffected. Unlike competitive fly traps, with the Paraclipse trap, you do not have to worry that your trap is all dried up. When the cartridge has expired, all of the collected insects have been safely encapsulated within the cartridge, so you never have to handle a messy, unsanitary board. The Insect Inn Ultra cartridge lasts for 60 days, has a tremendous catch capacity, and when the cartridge has expired, a small photo cell triggers a low volume alarm to alert you that the cartridge needs replacing. Replacement of the cartridge takes only a moment or two. All you do is remove the cover, pull out the old cartridge, dispose of it, place a new cartridge in the unit, and manually advance the paper until fresh glue and attractants cover the flesh area. Replace the cover and you are now all set for another 60 days of worry-free fly control. The Insect Inn Ultra is the product of choice for use in public areas. Use it in a restaurant, convenience store, deli, or anywhere you have a fly problem. There are no pesticides or harmful chemicals. The unit meets all USDA and FDA guidelines, and there is no zap with insect body parts flying around the room. The Insect Inn Ultra is safe and sanitary. Whether you need a decorative unit for use in a commercial or home application, or a heavy-duty unit that you need in the kitchen or warehouse, we have the product to fit your needs. Our patented auto advancing cartridge system gives you a product you can set and forget. The ultra and terminator cartridge lasts for 60 days, and the fly patrol cartridge lasts for 30 days. Flies are encapsulated in the end of the cartridge so you never have to handle an unsanitary glue board again. What's at stake? Whether the application is commercial or residential, Paraclipse has what you need. Factories, restaurants, and homes can now be cleaner, safer and healthier with the patented Paraclipse cartridges and one of our fine trapping systems. Install Paraclipse traps today, and stop gambling with fly control.
Flies are a major contamination risk in many restaurants and kitchens. This video will show you how the Paraclipse Insect Inn Ultra can eliminate these risks and solve your fly problems! And, there's no zap or harmful pesticides involved.
Related Videos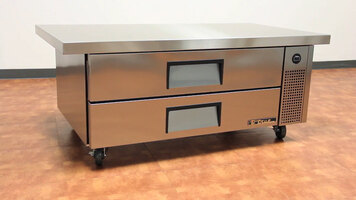 True Refrigerated Chef Base Tables
View this video to learn all the features offered by True TRCB refrigergated chef base tables! These refrigerated griddle stands have drawers to provide plenty of chilled storage space, while providing plenty of countertop space for other equipment.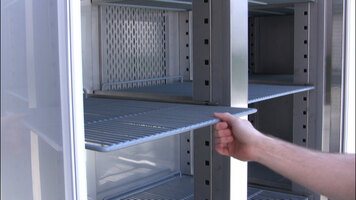 Avantco CFD-3FF 3 Door Reach In Freezer Review
The CFD-3FF 3 Door Reach In Freezer's 72 cu. ft. of storage space is perfect for your commercial kitchen! Featuring everything from a digital display to a durable stainless steel construction, you get high quality and maximum storage space for less!
Choice Wrap Nap Napkins
Wrapping flatware in napkins can become a time consuming job, but our Choice WrapNap napkins will save you both time and money! Because these napkins are already flat, you can cut out the step of unfolding napkins before you wrap your flatware.