Hi, I'm Bill Verity, President of Crown Verity, and we're going to talk today about our portable hand washing sinks. Hand washing is a very important part of food prep and foodservice. It's very, very important, and that's why we developed this product. In the markets who we develop these portable sinks for are grocery stores, warehouse clubs, schools, colleges, universities, stadiums, shopping malls, airports, hospitals, nursing homes, golf clubs, country clubs; the rental industry is another big, big market, and of course caterers and contact feeders use these every day, day in and day out. Our product ranges from a one-compartment sink to a two-compartment to a three-compartment. We also have what we call a space-saver that's available in a single-compartment sink only. Our base units are 25 1/4" deep, and they're 34 1/4" wide; and our space-savers, they're 24 1/4", so 10" narrower and the same depth of 25 1/4". All our sink carts are stainless steel construction—304 stainless steel. There are very important features we have. We have NSF Certification, CSA, UL or equal certification. Every unit has hot and cold running water. Turn a little hot on, a little cold, and they're great for hand washing. Standard equipment in all Crown Verity portable sinks: paper towel dispenser, a backsplash, and all units come complete with a soap dispenser that can be mounted wherever the operator wants. We also have available an optional hands-free faucet. There's a sensor on the bottom, put my hands in, and we have water. Works every time. A great option. Let's take a look inside a Crown Verity portable sink and see what makes it work. All Crown Verity portable sinks come complete with fresh water: 20L fresh water tank. And we take this out, and they're potable and portable. And we have a 30L waste water tank. When it's full, take it out and dispose of the water. All units come complete with a 2.5 gallon water heater. This gives us our hot water. All units come with a duplex receptacle, are 120 volt and can plug in anywhere for your water heater and your water pump. Our four casters make the units very, very portable and easy to move. Two of those casters are swivel, and the other two are locking, so once in place, you can lock the unit tight.
The wide variety of features and options of the Crown Verity Portable Sink Carts make these sinks perfect for all kinds of indoor and outdoor food preparation. This video will show you each of these features and how they will benefit your business!
Related Videos
Features of the Cambro Hand Sink Cart
See how the features of this Cambro Hand Sink Cart will help reduce food contamination by encouraging frequent hand washing for your employees! The 5 1/2 gal. fresh water tanks and the 7 1/2 gal. waste water tanks will allow up to 70 hand washings.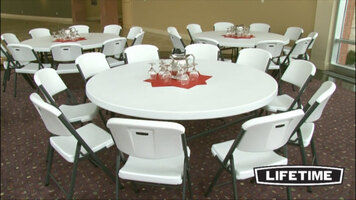 Lifetime 72 Inch Round Folding Table Review
Learn about the features of this LIfetime 72 inch round folding table and what makes it perfect for churches, schools, conferences, and banquets. It is stain resistant, durable, and easy to clean, making it perfect for any event!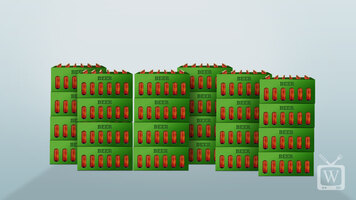 Avantco JBC65 Beer Bottle Cooler
Learn about the best features of the Avantco JBC65 beer bottle cooler and why it's the perfect addition to your bar!