Innovation, quality, and performance since 1936. Cres Core: still no equal. Transporting a variety of dishware safely from point A to point B is a snap with this new rugged, yet highly versatile, extreme dish dolly. Using the twelve supplied adjustable and coded hexrods, you now can create a custom layout that uniquely accommodates your individual storage and tabletop needs. Storing and transporting salad plates, soup bowls, platters, triangular and square plates, no problem. This new dish dolly allows you to hold many different sizes and shapes of dishware snuggly in place, without the worry of chipping, thus eliminating the need for multiple dish dollies. Cheap plastic dish dollies, beware. This durable unit features cross-braced reinforcement for added strength, as well as heavy-duty swivel casters for mobility. Why trust thousands of dollars in dishware in anything else? A banqueting industry veteran who has managed and set up thousands of weddings and other large capacity functions, Richard now discusses the benefits of this new extreme dish dolly. My name is Richard, and I've been in the banqueting industry for more than 17 years. At this banquet facility, we do over 200 weddings a year, and over 300 different functions—lots of different plates, serving lots of different meals. From formal settings to buffet settings; from our bowls to our main course dishes to our salad plates to our bread plates to our saucers, this new extreme dish dolly holds it all. You don't have to go back and forth pulling four and five different caddies for different sized dishes and saucers. This new extreme dish dolly does the work in full. My staff has been extremely enthusiastic about using this new dish dolly. It makes their lives much easier, which makes my life much easier. And why trust expensive dishware to plastic dollies? This extreme dish dolly is very durable. It is coated to prevent chipping; and that's why we trust Cres Cor. I really wish they had this dish dolly seventeen years ago. Cres Cor's new Extreme Dish Dolly, model #501D-EX is available now for your banqueting needs. Cres Cor: still no equal.
Learn about the innovative features of the Cres Cor Dish Dolly and how its durability and versatility will make storing your dishes safe and easy. Storing and transporting different types of dishware on the same dish dolly has never been easier.
Related Videos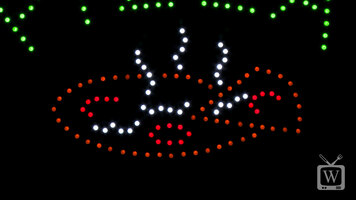 Choice LED Pizza Sign
This 22 3/4" x 14" Choice oval LED pizza sign will draw customers into your business with its two eye-catching display modes and attractive design. Compared to traditional neon signs, this display is lighter, safer, and uses 50% less electricity!
Using the Paraclipse Insect Inn Ultra
Flies are a major contamination risk in many restaurants and kitchens. This video will show you how the Paraclipse Insect Inn Ultra can eliminate these risks and solve your fly problems! And, there's no zap or harmful pesticides involved.
Troubleshooting Faucet Leaks
A leaky faucet can increase your water bill by hundreds of dollars per year. In fact, 1 drip/second equals about 3,000 gallons/year! Luckily, most causes of leaky faucets are easy to diagnose and inexpensive to repair. Watch this video to learn how!