No matter which option you choose, TNS Spray Valves deliver great cleaning strength with the water conservation that can save you money. Each option, 107 and 108, meets the requirements of the Energy Policy Act of 2005 also known EPAct. Each is available in choice of normal flow or a low flow. Most pre rinse units use the traditional spray valve the BO 107, so why use anything different? Well, TNS wanted to answer that question so we started from scratch with the goal of making the finest pre rinse unit imaginable. The result was BO 108 Spray Valve featuring a revolutionary ergonomic design that makes holding the unit easier and more comfortable. We completely redesigned the valve itself to dramatically reduce the force needed to activate the sprayer. With the BO 108, fast rinsing power plus water savings has never been easier. Converting to BO 108 Spray Valve is simple and requires only four easy steps. First, shut off your water supply and drain the pre rinse lines. Second, remove the old spray valve from the hose using an adjustable wrench or a pair of pliers. Third, check the hose washer inside the barrel. If it looks brand new keep going. If you feel that it needs to be replaced remove it and insert a new hose washer we included. Fourth, and finally attach your new spray valve by threading the top of the valve into the hose barrel, tighten by hand and use your pliers or wrenched to tight just a bit more if you prefer. Turn your water supply back on and you're ready to go! One of the other benefits of the BO 108 is its simplicity in changing straight faces. The BO 107 comes with a fixed spray face. In order to use a different flow rate you'd need purchase a difference spray valve. With the BO 108 though changing spray faces is quick and easy. Simply shut off the water supply twist the face clockwise and remove the face. Install a new face by pushing it in and twisting clockwise. It's that simple. At TNS, we offer you a world of choices for conservation and saving. Consider upgrading to a BO 108 Spray Valve and enjoy the power of ergonomics and quick change spray faces today!
See how easy it is to convert your existing spray valve to a new, ergonomically designed B-0108 spray valve from T&S. You'll also learn about some of the B-0108's ergonomic and design features.
Related Videos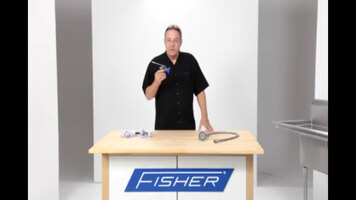 Fisher Ultraspray Pre-Rinse Valve
Check out this video on the Ultraspray pre-rinse valve from Fisher! It demonstrates the uses and functions of the ultra-spray valve and what sets it apart from other major brands and competitors.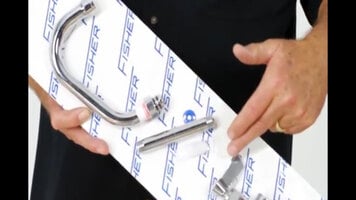 Fisher Interchangeability: Upgrading Your Pre-Rinse Unit
Check out this video to learn how Fisher can help you upgrade your pre-rinses! Fisher offers pre-rinse components, such as spray valves, hoses and springs that are interchangeable, allowing them to adapt with any other brand.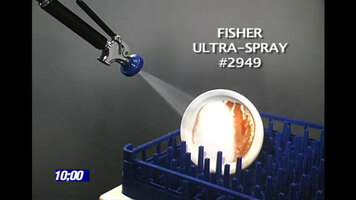 Fisher 2949 Ultra Spray Valve Review
See how much cleaner your dishes will be after just 10 seconds of spraying when you compare three leading competitors with the Fisher 2949 Ultra Spray Valve! This difference is absolutely clear, and it will save you time and money.