Hi welcome to the T&S eye wash line. I wanted to take you through he different types of eye wash, why you need one, and what the answer requirements are in regards to eye wash. This is strictly an eye wash station, you can tell because of the way the spray head is shaped. This one however is an eye face wash and you can tell because the spray face has a much larger area to spray the face and the eyes. Standards require one second one touch activation, which in this case is simply a push of the paddle and the eyewash automatically activates. That works on this one, this one on the other hand; it's a pull on the side which automatically activates the eyewash. And again you push it this way and it turns back off again. In addition to the products that we just reviewed we also have several other products on the line. We have the stainless steel bowl that can be either wall or pedestal mounted. And again this is an eye face wash that is activated with one touch, one second activation. This unit is great for caterers or contractors that are out on the jobs site and don't have a permanent unit, this is our portable unit. It's a 9 gallon unit gravity fed unit, simply activate by pulling the door down, gravity feeds the water down and then you have your eye face wash. This unit is perfect for new construction; it is an in-wall flush instillation. So you simply pull the door down, which automatically activates the product eye face wash, the water drains away into the unit itself and into your plumbing system. This completes the line with T&S.
In this informative video, you'll learn about several different styles of eye wash stations that we carry from T&S Brass. Keep your employees safe by installing the right emergency eye wash station for your business!
Related Videos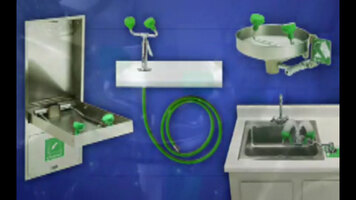 T&S Brass: The Importance Of Eyewash Stations
Watch this video to learn how important emergency eye wash stations are for your employees' safety. Not just for chemistry labs and class rooms, an emergency eye wash station provides added safety and protection for your kitchen workers' eyesight!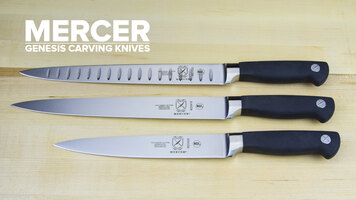 Mercer Genesis Carving Knives
These durable, forged Mercer Genesis carving knives are available in 8" or 10" lengths, with or without a Granton edge, and are perfect for carving and serving meats at your buffet or catering events! Watch our short video to learn more.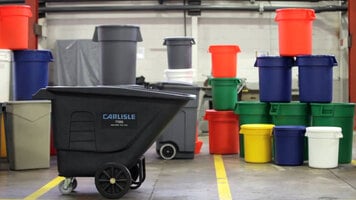 Carlisle Bronco Waste Containers
Learn about the features and benefits that come with a Carlisle Bronco trash can!