Descaling. Next, we will be reviewing how to descale your RealCup brewer. We will be demonstrating this with an autofill unit. As you can see, this unit is attached to a water supply. Make sure to turn off the water before proceeding. The first step to descaling the unit is to remove the reservoir and empty it. Replace the empty reservoir onto the brewer make sure your brew chamber is empty and that there is no capsule in your brew chamber. Next, you'll want to fill the reservoir with 72 oz. of white distilled vinegar. After you fill the reservoir with vinegar you'll use the 12 oz. brew cycle to operate the brewer. Select 12 oz. and brew as you normally would. Continue to cycle with the 12 oz. brewing option with a capsule in the chamber until the brewer calls for water. We've now run through several brew sequences and the reservoir is nearly depleted. This has brought the vinegar through the heating tank and all the internal water connections. At this point we need to turn off the brewer and empty the reservoir of any remaining vinegar. Leave your brewer off for a period of three hours allowing the vinegar to complete its descaling process. The brewer has not been off for three hours, so I'm going to remove the back panel to drain out the spent vinegar. Remove the cap to the drain hose and drain the brewer into the sink. Caution, the vinegar may still be quite hot. The water line has now stopped draining, so I'm going to reconnect the stopper to cap the drain line. Then secure the back panel and refill the reservoir with fresh water. I'm going to do this by turning on the water supply or you can fill it manually. When I turn on the brewer it will ask me to prime. The brewer is now primed and reheated. I will now use the 12 oz. cycle a minimum of three times to flush the system without a capsule until there is no longer a smell or taste of vinegar in the water. The brewer will then be ready for use.
Properly descaled equipment is imperative to brewing good coffee. Learn how to descale your Grindmaster RealCup RC400 by watching this video!
Related Videos
Grindmaster RealCup RC400 Coffee Brewer: Basic Settings
This video explains the many settings available on the Grindmaster RealCup RC400.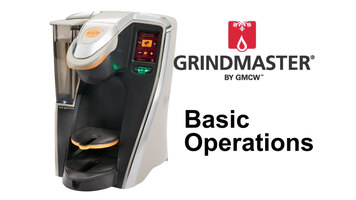 Grindmaster RealCup RC400 Coffee Brewer: Basic Operation
Learn how to use the Grindmaster RealCup RC400 by watching this video.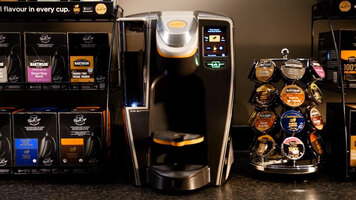 Grindmaster RealCup RC400 Coffee Brewer
Discover why the Grindmaster RealCup RC400 should be the next addition to your business!