There are many ways for hard working people to get their hands dirty. And, for every pair of dirty hands, there is a GOJO® product to get them clean. Paul Clymer works outside doing utility maintenance and repairs. Paul spends his days going from job to job in his service truck. He is outside in all kinds of weather and gets into all kinds of dirt. When he finishes a job and he needs to meet with a customer, he needs a way to get his hands clean and germ-free. Karen Skinner, the GOJO® skincare specialist, has just the thing. Purell® sanitizing wipes. These wipes are quick and convenient for sanitizing and light cleaning. Purell® kills 99.99 percent of most common germs that may cause illness. These non-linting, durable-textured wipes do a great job. Paul wants to make sure that his hands are clean when he meets with his customers and Karen knows that these wipes are also approved for direct hand-to-food contact and won't harm vinyl, plastic, metal, or rubber. Paul knows the Purell® name, and he's impressed by the great job the Purell® wipes did in cleaning his hands. Because it is a wipe, there is no water required, and no need to dry his hands when he is done. No matter how you get your hands dirty, GOJO® has a solution to get them clean. For Paul Clymer, Purell® sanitizing wipes are the gentle, but effective hand hygiene solution he's been looking for.
The Purell® hand sanitizing wipes are gentle and effective at killing 99.99% of common germs, making them perfect for virtually any application!
Related Videos Winston CVAP: HBB Daily Cleaning
This step-by-step video gives you simple instructions on how to clean your Winston HBB unit. Make sure to always use a food grade detergent when cleaning.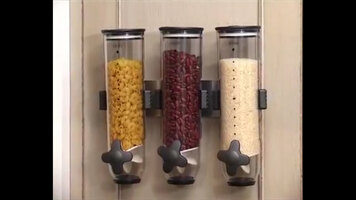 Zevro Wall Mount Dry Food Dispensers
Portion out cereals, candies, and dry ingredients with a twist of a knob. Each Zevro wall-mounted dispenser will allow you to evenly portion out any dry food in your kitchen, while keeping your counters clean and tidy!
Follett 7 & 15 Series Ice Machines
This video outlines the unique features and benefits of the Follett 7 and 15 series ice/water dispensers, including drain-free operation, agion-coated surfaces, and models available in countertop, undercounter, and free-standing styles.