Hello, Todd Clam with Globe Food Equipment, talking about our SP8 8 qt. mixer. This mixer is perfect for restaurants, culinary schools, bakeries, anybody wanting to do about 8 quarts or a little less of batches. it has a 3 speed motor, we have our controls in the front of the machine, with a 15 minute digital timer. Because we have the digital timer and controls in the front, it allows an operator from across the room to see what the remaining time on the mixer is. Thus, making them more effective in their habits in the kitchen. The bowl guard is held securely in place by 2 clips on the side. This Lexan splash shield also has an integrated ingredient chute. Our bowl is held securely in place with a clamp, making it a 3 point mounting system. When you look at the bowl, it's a very heavy-gauge stainless steel with a roll formed top. That adds strength to the bowl so that it has no flex. By not having any flex in the bowl, it's designed such that the tools fit right next to the edge of the bowl and all the way to the bottom of the bowl, making a perfect mix every time! There's no need to stop in the middle of a batch, take a spatula and scrape the inside or bottom of the bowl. This unit does come with 3 tools, our wire whip, batter beater, and dough hook. For information on this or any Globe product, please visit our website at www.globefoodequip.com.
The Globe SP8 8 qt. mixer comes with 3 handy attachments and several exclusive features to ensure a quality and durable unit. Perfect for your bakery, culinary school, or restaurant, this mixer will exceed your expectations!
Related Videos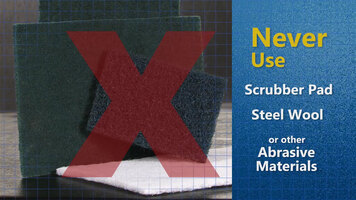 Globe Mixer: Cleaning and Sanitizing
Effectively clean and sanitize your Globe mixer by following these simple instructions! It is extremely that you accurately clean your mixer and ensure it is up to your local health department's standards.
Cambro Camshelving Premium Series
Looking for a durable shelving unit for your foodservice operation? Check out Cambro's Premium series camshelving! These shelves won't bow under heavy weight, which makes them long-lasting and reliable. Winston Cvap Holding Cabinet
Learn how to begin using your Winston Cvap holding cabinet with this guide! Featuring tips and tricks to maintaining your cabinet, this video will show you how to keep your unit clean and working efficiently.